Beans, Pies and Cookies: New Cookie Shop in Cairo
Tivoli Dome, Omar Ibn El Khattab St.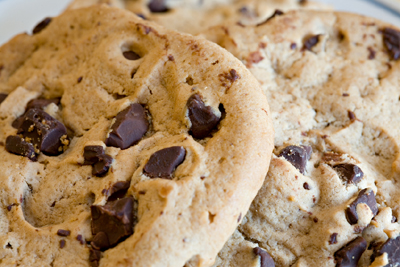 Tucked away in a little doll-house shop at Tivoli
Dome, one of the largest food courts in the world; Beans, Pies and Cookies is the latest addition
to Cairo's growing dessert shop trend.
The tiny, heavenly-scented coffee shop is a
sight to behold with an ensemble of teal, brown and cream walls decorated with
vintage floral decals.
Teal, modern lamps hang over the counter,
which runs along the whole shop and boasts a cookie display, heated pie display
and a coffee machine. Right behind the counter is an industrial-sized oven that
only adds to the vintage-chic charm of the shop and provides a constant
heart-warming aroma of baked goods.
Two barstools and a tiny counter are the
only seating options inside, while the courtyard outside holds only a handful of coffee tables and cosy teal-coloured chairs.
A healthy variety of cookies is available
for 7.25LE a piece. The date and cinnamon cookie was a much welcomed variation
to the western art of cookie-baking, but the tastiest of the bunch were definitely
the walnut and cinnamon cookie and the fundamental milk chocolate – known elsewhere
as chocolate chip.
Unlike your regular store-bought cookies,
these treats are more like cake: they're thicker, fluffier and filled with tasty
gooey centres.
We expected a shop serving cookies and
coffee to carry sweet pies, but their entire pie collection is savoury. The
salami pie (9.50LE) is freshly baked and stuffed with a generous amount of
salami and olives. The oriental sausage pie (7.50LE) is also a welcomed
oriental variation and its stuffing of sogo', olives and cheese as well as tomatoes
complement each other perfectly.
Beans, Pies and Cookies serves only the
barest of essentials when it comes to beverages: 12.75LE will buy you a cappuccino,
latté or espresso and 5.45LE will buy you a pricey glass of generic milk.
Overall this cookie shop definitely looks better
than it tastes, but with so many cupcake shops popping up all over Cairo; Beans,
Pies and Cookies provides a blissful, calorie-loaded alternative for any
fanatical sweet tooth.