Beymen Café: No High-Street Cappuccino
Four Seasons Hotel Cairo at Nile Plaza, 1089 Corniche El Nil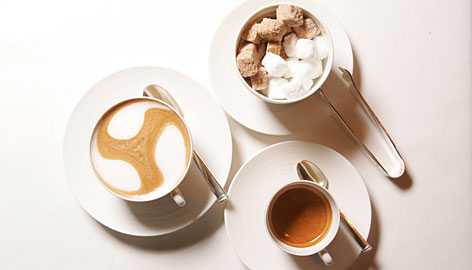 There is a top-tier,
not-so-secret society in Cairo
that loves to insinuate that all the best restaurants and cafés are secluded inside
five-star hotels. We don't agree entirely– the capital is full of oh-so-much-more
when it comes to quality dining experiences, but we admit that it can be fun to
glam it up once in a while and live the high life. While impeccable service and
sleek state-of-the-art décor has its appeal, many of these places are lacking
character or ambiance beyond the glitz of the establishment itself. Don't even
get us started on the prices.
Cairo 's most
label-ridden department store Beymen is housed in the Four Seasons
Nile Plaza.
If you're tired of ogling racks of Prada, Kate Spade and Versace, you don't
have to venture into the lobby for a coffee or a light snack. Beymen Café lets
you sit among the chic clothing, tempting designer eyewear and tantalising perfumes
on the mall's ground floor.
An hour spent sipping a
cappuccino at the deco tables feels like sitting in a bakery when you're on a
diet: a feast for the senses without actually indulging in the merchandise. Whether
you need a respite from shopping or you simply want to live and breathe couture
while nibbling on a delicate sandwich, the café sometimes proves to be more
satisfying than the overpriced last-season stock in the display cases.
The coffee (well over
20LE) is excellent, whichever way you take it, and the light savoury fair is a
perfect pick-me-up; but the desserts take the cake, so to speak. From a rich
but not overpowering chocolate tart with a nutty rich caramelised walnut centre
and a dusting of cocoa, to a light pear puff pastry or cheese cakelette; these
indulgences are an ideal shopping treat. Desserts average around 40LE and
upwards. Even if you don't order dessert, your coffee comes with a fabulous and
ornate complimentary chocolate, decked in coloured art. Each has a unique centre
and if you like what you taste; you can purchase a box with your favourite
ones, be it white chocolate passion fruit or raspberry and bitter sweet chocolate
truffle. Be prepared to spend upwards of 75LE on these delights.
Whether you have shopped
until you drop into one of the comfy seats or you want a sophisticated gossip session
with the girls, Beymen Café's elegant seating outdoes both the hotel lobby and
the subpar department store food court.
We recommend sticking to
sandwiches and the menu of caprese salad and toasty baguettes (around 45LE).
Dessert and a coffee are really the best way to do Beymen Café. Remember; the
prices are as high end as the fashion: a coffee and dessert for two can reach
over 200LE; so it's best not to keep the coffee coming and invest instead in a
new scent or pair of shades for the summer.