Bread Basket: Fresh Pastries & Bread in Maadi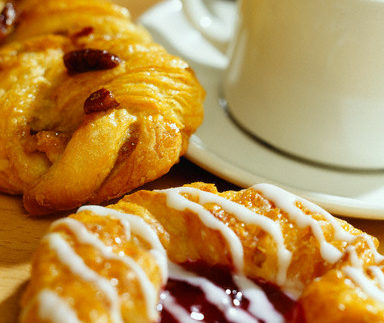 Located in a distinctively competitive area
in Maadi, across from Metro Market and the Parisian-inspired La Gourmandise on
Road 9, Bread Basket has still managed to cling to its long held position as a
popular provider for Maadi's daily bread and carbohydrate cravings.
Taking up a teeny-tiny space on the 1st floor of
a residential building, Bread Basket efficiently manages to make the most of
the little space it has.
At the counter they display all their sweets and treats,
which include such favourites as Danish pastries and brownies;
both moderately priced at 5LE. Although the menu claims they serve a
large selection of morning pastries – including a raisin Danish,
an apple Danish and a chocolate Danish – only the pudding Danish was available when we visited. The pudding Danish was perfectly sweetened with a perfect
pudding-to-bread ratio, making the pastry enjoyable and easy to eat.
At 2LE-3LE
cheaper than the gateaux at The Bakery Shop, they make a good option if you want
to buy morning pastries in large numbers. Even after the
filling pudding Danish, we decided that an additional sugar fix couldn't hurt
and went for a brownie. The brownies are sold
in individually wrapped pieces and were chocolaty with a
distinct butter taste. However, it was not as rich or moist as you would expect; it tasted only slightly better than store
bought ones, which was disappointing.
Behind the counter are shelves reserved for the baked bread,
which comes in a multitude of varieties including grain baguette (31LE),
multigrain loaf (20LE), raisin bread (14.50LE), sesame rolls (1.25LE)
and cheese rolls (2.50LE). However, despite having over 20 different kinds of
bread listed on their menu, only about six were available that day.
We
tried the brown multigrain bread, which was coated with a sprinkle of grains.
Crunchy on the outside and very moist and soft on the inside, it hit the spot.
However, since this bread does not come in the pre-packaged plastic sleeves
that keep it fresh, make sure you have a place to store your bread or you risk
it becoming stale before you have even finished.
Shopping at Bread Basket is an experience; the bakery is cosy
and smells wonderful. But the selections are limited and if you don't come early
then it's likely they will be out of some of the more popular staples by noon.