Brioche Dorée: French Pastries in Cairo
1st Floor (beside Shorouk Bookstore) Dandy Mega Mall, Km 28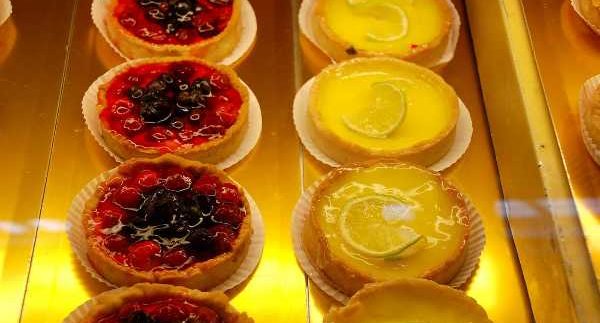 Located in Dandy Mall, Brioche Dorée is a
French pastry chain with 500 branches located all over the world. Creating
delicious French delicacies since 1976, the chain is a welcome addition to Cairo's brunch culture.
Set in a small open space on the mall's
second floor next to Al Shorouk, Brioche Dorée is quite small and barely fits
six tables next to its large display counter, which is filled with baskets of
fresh croissants, mouth-watering delicacies such as éclairs, cheesecakes and
tarts. One look at their banana chocolate tarts or chocolate éclairs will have
you salivating instantly; although you might have to wait for a seat on a crowded Friday
morning.
The café offers set breakfast menu options,
such as le petit dejeuner bonjour (21.95LE), which offers a simple combination
of coffee or tea with a croissant or brioche, or le petit dejeuner moyen orient
(34LE), including either a croissant or
a brioche, as well as bread, butter, jam and two eggs with cheese. The croissants themselves are the highlight
of Brioche Dorée, available in flavours such as thyme, cheese, apricot, almonds
and pain au chocolate. Prices range from 3LE for the mini-croissants to 13LE
for larger varieties. We also recommend their vanilla mille-feuille, a little
pricey at almost 22LE per portion.
Aside from the delectable desserts, the café
offers a selection of French soups and
sandwiches. When it comes to staple French dishes, it doesn't get more French
than onion soup (13LE); and any French chain should be embarrassed if they
can't get it right. At the time of this reviewer's visit, they definitely
didn't. A piece of white toast with melted cheese rested on top of the thick
onion broth, but it was definitely not soft enough to be gently cut into and
spooned up with the broth. Furious cutting with a knife ensued, but even that
didn't help the toast to blend well with the broth.
Our order of the smoked salmon quiche with
spinach (around 20LE) was a better choice, arriving with a side of mixed
lettuce and a rather strong balsamic vinaigrette, and what this hungry reviewer
thought was the world's tiniest slice of quiche. Sadly, it was finished in less than three
bites and definitely didn't satisfy our morning brunch hunger.
The L'ocean sandwich (35LE) didn't fair
that well: although the menu said that the sandwich arrives with lemon cream
cheese and artichokes on rustique bread, our order arrived minus the lemon
cream cheese and with two measly pieces of artichokes that hadn't completely
defrosted.
The service at this branch was definitely
not its best during our visit. Our waiters were harried, forgetful and couldn't
seem to handle all six or so tables. Our order of raspberry ice tea arrived as
peach instead; but it was so delicious that we asked to keep it. We had
asked for our cappuccino to be decaf, but what arrived was so heavy and sharp;
it tasted more like an espresso shot than a frothy cappuccino.
Perhaps it's better to stick to the
croissants and fresh pastries at Brioche Dorée than the rest of their menu. The
café also has a ground-floor branch at the mall, where you can sit for a quick
coffee or pick up a box of fresh pastries.
Brioche Dorée definitely know how to
make real French pastries, which taste very rich and very fresh. Even better;
the pastries actually taste just as good the next day, a feat that few pastry
shops in Cairo accomplish.