Café Supreme: Super Coffee
City Stars, Phase 2, 1st Floor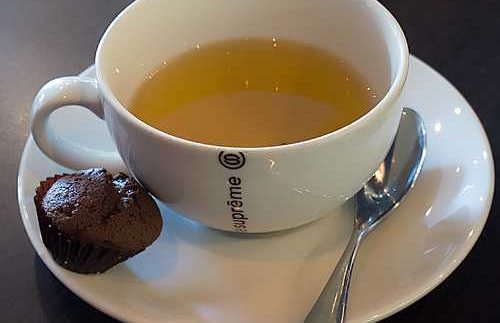 Despite the plethora of cafés in Cairo, it sometimes feels
as if everything tastes the same; be it a familiar mozzarella and tomato
sandwich or turkey and Swiss club. Luckily for us, Canadian franchise Café
Supreme has various outlets around Cairo–
from City Stars Phase 2 to Carrefour in Maadi. The café's kitchen delivers a
somewhat unique twist on the usual café fare of soup, salad,
sandwiches and dessert.
This café brings something a little
fresher, a little more inspired with a lot more character and finesse. Be it
smoked turkey on country-style ciabatta bread, a delicious green salad
garnished with toasted pine nuts, or the fluffiest of Belgian waffles with
smooth melting Nutella; Café Supreme boasts flavour and a unique touch to its
cuisine. For a chain café, it feels more homemade and one-of-kind than expected
of its shopping mall location.
With a full range of hot and cold
coffees, Supreme will satisfy picky caffeine junkies with their selection
of strong brewed espressos, lattés, cappuccinos and American coffee. And for
those who like it sweet; just add flavoured syrup and whipped cream.
Iced options also abound and you can get
a good iced cappuccino that is very importantly not a frappuccino packed with
sugar and cream, but our preferred straight-up iced coffee with a milky foam. If
you are in the market for something cold, refreshing and sweet; then the iced
dark chocolate is the perfect treat.
The juices and smoothies come highly
recommended, and those fond of citrus should be sure to taste the menu's blood
orange drink.
Breakfast is a good option at Supreme;
you can order quiche, waffles or a muffin with your morning drink. The apple
cinnamon muffin is excellent paired with a foamy cappuccino, and you shouldn't pay
more than 30LE for your breakfast combo.
If you are in for a light lunch, the
variety of sandwiches is impressive. Smoked turkey with cranberry aioli is
a favourite, as well as the chicken and mushroom soups. The Greek
salad is packed with fresh ingredients and flavourful feta cheese. Supreme's
bread is quite tasty; so be sure to order some along with your soup or salad.
Prices are moderate – salads and soups range from 20LE to 40LE and sandwiches cost
around 25LE to 45LE, depending on which ingredients you fancy.
When
it is time to move on to dessert, the chocolate cake is rich and indulgent but
the Nutella waffles are Café Supreme's crowning glory: with a warm golden brown
texture and that tantalising melted chocolate aroma, the waffles will satiate
any sweet tooth – and may have you ordering another strong espresso to wash it
down.