Cafe Tabasco: Cosy Subterranean Boheme in Zamalek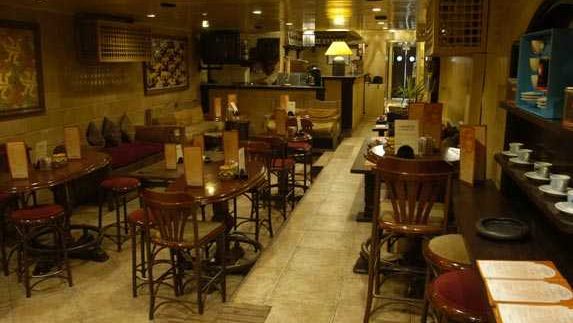 Walking down Marashly Street in Zamalek you might miss the door of this cosy café if you're not on the lookout. The picture window displays an inviting scene, and once inside and down the stairs you're welcomed with a nice selection of current local and foreign magazines to linger over, and some comforting pillowed benches to lounge on. The furnishings have a quirky edge and the walls are decorated in faux-vintage oriental theme while music ranges from smooth jazz to soft 90s rock.

The service is great, with the waiters being both prompt and polite. The menu is expansive and covers a large selection of hot and cold sandwiches, pizzas and pastas, meat dishes and mezza.

The special chicken menu is particularly good at 44LE, with the mango chicken standing out as juicy and fresh, while the chicken Thailand is creamy and flavourful. The extensive beverage menu is quite impressive and also generally good, with their memorable and refreshing lime and mint being a highlight. Appetisers are hit and miss, but the mixed salad is enormous, fresh, and quite filling. However the hummus and vine leaves, while not bad, are forgettable.

Their pièce de résistance is the fabulous chocolate soufflé for 32LE. It requires some patience as it takes 30 minutes to prepare, but it's more than worth the wait to experience the warm chocolaty goodness that's melted inside. Overall, Tabasco isn't cheap but is a consistent neighbourhood eatery one can rely on for decent food, quality drinks and an enjoyable atmosphere.