Cairo's Best Cafés: A Look Back at 2012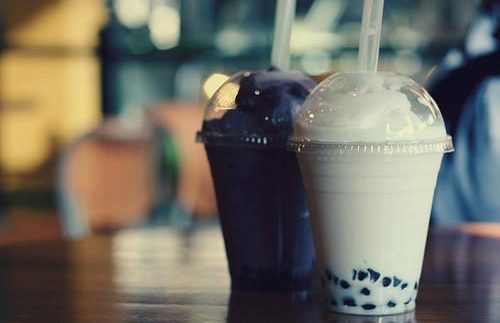 It's been a
mad year in Egypt – mostly for the wrong reasons – but Cairo keeps trooping
along, making the best of many a bad situation. New venues pop up around the
city with alarming frequency and 2012 has been no different.
Birthed from
Egyptians' love of traditional 'ahwas' and loitering, Cairo has seen the
concept of the café shoot off into endless new gimmicks and specialities. But
as our round-up of the year's best cafés attests, keeping it simple is just as
important. You see there's a yearning for comfort and familiarity when it comes
to cafés; we like to have our favourite table, our favourite drink, our
favourite waitress.
But then
again, Cairo is notoriously susceptible to fads, band-wagon-jumping and idol
worshipping when it comes to food and drink. Either way, it's been an
interesting and prosperous year for tea, coffee, juice, cake and ice cream
addicts.
Conceived
in 1980s Taiwan, bubble tea is one of the more peculiar innovations to come
from Asian cuisine. Zamalek's Bubblicious is the first to bring the bizarre
drink to Egypt and has, to date, been very successful in doing so. A brazen
gimmick of the highest order, yes, but Bubblicious has so much more to offer;
we went for the bubble tea, but we stayed for the breakfast. Bubblicious offers top-notch French toast and
impressive pancakes. The latter in particular has become a staple in the Cairo
360 office.
The dark horse of our list comes in the form of Dokki-based juice shop,
City Drink. Located on Tahrir Street, City Drink is more often than not the
culprit when traffic is bad on the busy road. The shop stations two or three
staff members on the street who wave to passing cars and remind them that they
must be thirsty and must take advantage of the juice-in-your-car service that
City Drink offers. Crimes against traffic aside, City Drink's popularity is no
mystery; they do the basics well and offer some rather creative concoctions,
too. How does a lib (pumpkin seed) milkshake sound?
Located in
Heliopolis, Dukes is quickly becoming a favourite among Cairo's sweet-toothed.
The café -come-patisserie oozes the kind of delicate charm and sophistication
one needs to justify indulging in its many treats. The highlight at Dukes is the
allegedly patented dirt cake. Presented in a small faux flowerpot with a pretty
plastic flower to boot, the playful dessert is wonderful to look out, but the
chocolate au gratin shavings which unnervingly look like dirt and soil, cover a
wonderful mouse that compliments the chocolate in taste and texture. Cairo has
been crying for something to replace the overstayed cupcake craze and Dukes'
dirt cakes might be the answer.
The ice cream market in Egypt is pretty saturated. While there of course
has to be a distinction between local stalwart, Kimo Kono, and some of the
international ice cream parlors that have invaded Cairo in the past year, we
are a nation that seeks out ice cream in all its forms for some sweet relief in
the scorching summer months. Located amongst the cluster of venues lamely known
as Club 35, the Zamalek branch is set perfectly against the backdrop of the
Nile. As one of the most revered ice cream bands around the globe, prices are
inevitably a little steep, but probably worth it.
Located in
Heliopolis, Harris Café received a facelift this year, to locals' delight. The café now offers a breezy, airy space with
large windows enhancing the outside view and an outdoor area that would be
perfect for those cool summer breezes. The menu offers a range of breakfast
options, lunch and dinner choices for whatever time of the day you choose to
visit. Harris Café is comfortable, relaxed and homely.
Still the go to for meetings, small gatherings and just chilling, Left
Bank hasn't rested on its laurels after opening to fanfare. Regular events,
cooking classes and film screenings brought in crowds that may have never
thought to frequent the stylish cafe. Whether looking for a full meal or just a
quick drink, Left Bank has firmly established itself as one of the best venues
in Cairo. So much so that it's starting to make neighbouring Sequoia look bad.
Yes, the cupcake craze in this city has probably contributed to median
weights rising, sugar-high related crimes increasing and many predictable
office birthdays, baby showers and dinner party gifts. But there's a reason;
because they are so sinfully delicious. As one of the pioneers of this unholy
craze, Nola Cupcakes seems to be slowly but surely taking over the streets of
Cairo, following the opening of a second branch in Maadi. The new branch is bigger
and better than the original Zamalek branch; more than just a counter and seat
setup, Nola's new quarters are more of a showroom than a shop. Whatever the
case, the cupcakes are still as good as ever.
Responsible for making shisha cool again, Wel3a presents the closest
thing to gourmet shisha in Cairo. The mind boggles at the hoards taking over
the pavement on 26th of July, but despite several venues around the
city following suit with crazy shisha concoctions, Wel3a has maintained a very
loyal fan base. Although shisha is the draw, Wel3a's collaboration to bring
food from Zamalek neighbours, Cairo Kitchen, during Ramadan was a stroke of
genius.
For more café reviews on Cairo 360, click here.