Carvel: Real Peanut Butter, Hurrah!
Omar Ibn El Khattab St., Floor 1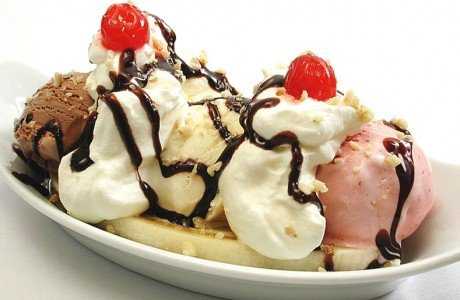 There's something about really good ice cream that reduces
the most sensible Egyptian adult into a sugar-high, giddy child. Although this reviewer
holds only contempt for mall ice cream in Cairo, everything changed when Carvel's
ice cream was recently tried and tested.
With several branches around Cairo, our sojourn to the
Citystars branch was a blissful one despite its location in the rather
horrendous and always crowded Food Court. Taking up a corner across from
Hallmark,
the tiny shop is painted in the franchise's trademark baby blue hue with barely enough space for two ice cream counters, a cash register and two freezers
displaying Carvel ice cream cakes in a few sizes and shapes.
Available flavours include the very temptingly named chocolate
volcano, perfectly peach, vanilla fudge, butter pecan, mint chocolate chip,
crazy cotton candy, dolce de leche, and cookies and cream. While the patient ice cream man kindly let us
taste every single flavour on display, we settled for the peanut butter
chocolate chip and the mint chocolate ice cream in a large waffle cone.
The ice cream at Carvel isn't necessarily the cheapest
around at 12LE per ball or 15LE per ball if you choose the chocolate-dipped
waffle cone. Other cones include biscuit cones dipped in sprinkles, white
chocolate and other tempting dips. While the price may be a bit high, you
really get your money's worth with the gigantic size of the ice cream balls. In
fact, our portions were so large, that it was quite impossible to finish; an
embarrassing feat considering we're full-grown adults and should be able to
finish our ice cream if we want to.
The peanut butter chocolate chip ice cream was heavenly rich with huge chunks of salty
peanut butter and large Hershey-sized chocolate chips mixed in with the
chocolate ice cream, which was not too sweet and so blended well with the peanut
butter. The mint chocolate was nicely mellow, minty, and it lacked the chemical
taste that is sadly associated with most of the mint ice creams we've tasted
over the years here.
If you're more of the strawberry and bubblegum flavour type,
try their crazy cotton candy, which is nicely flavoured but not too chemical.
The cookies and cream is another winner; it's spot-on creamy, chunky and rich yet
light. The dulce de leche didn't fare as well, and tasted too similar to the
cookies and cream to have its own distinctive edge.
Apart from the ice cream, Carvel also has soft –serve,
sundaes, and the carvelanche; soft-serve ice cream blended with various
toppings such as M&Ms (25LE for a small). The shop also sells ice cream
cakes that range between 100LE and 125LE, depending on what shape you choose
and whether or not you ask for it to be customised with lettering.