Cherry on Top: Frozen Yoghurt & Cupcakes in Heliopolis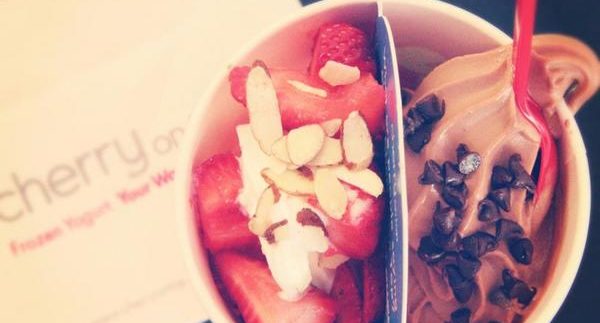 After trawling round the endless shops in Citystars, Heliopolis, what could be more revitalising than a cold, refreshing frozen yoghurt teamed with a fresh, sugary cupcake? Cherry on Top has popped up on the ground floor and has become a serious contender in Egypt's sweet business.
Surrounded by coffee shops, just after the food court, Cherry on Top attracts attention with it's clinical white tables and chairs and glossy, bright pink signage. The large menus on the wall suggest this is not just any ordinary coffee spot; they offer a wide range of frozen yoghurt and oodles of cupcakes tempt you from a giant cake stand at the far end of the counter.
We picked up a small menu and sat down to contemplate our choices and almost immediately, one of the sales assistants bounded over to offer us two shots of frozen yoghurt to try – one Hawaiian Delight and one Cake Batter. The flavours were exceptionally accurate, fruity and sweet and they were both lovely and smooth with no lumpy bits – how we think frozen yoghurt should be, but even better.
Cherry on Top offer small, medium, large and family size cups of their flawless yoghurt and you can add from four to six toppings on each. The prices for these range from just 16LE to 67LE. We were inspired by the unusual taste of the Cake Batter and jumped at the chance to make our own frozen yoghurt cake; we chose to share a medium cup with six toppings (42LE). We peered down at the diverse selection of sweet add-ons under the glass counter and eventually decided on crumbled Oreos, pieces of Kit-Kat, caramel waffles, M&Ms and, not one, but two spoons of cookie chunks. Our least favourite topping were the M&Ms but, even so, we unanimously agreed that we had created a delicious, cold chocolate cake masterpiece.
Cherry on Top get their fresh cupcakes delivered daily, so we took it upon ourselves to taste one of their pretty vanilla ones (12LE). The sponge turned out to be subtly flavoured, light and fluffy with a generous sized dollop of mouth-watering, soft, vanilla-butter icing on top. We've heard similar compliments about the Strawberry (15LE), Carrot (14LE) and the Oreo (16LE) cupcakes, leading us to believe that this place is definite competition for existing cupcake chains in Cairo – if only they delivered.
Cherry on Top also offers frozen yoghurt smoothies, a small selection of teas and coffees and, of course, water. Unfortunately, and a little surprisingly, they don't stock any sodas to quench your post-shopping thirst.
Cherry on Top is certainly contributing to the cupcake craze but are mixing things up a bit by offering a fun alternative to the fashionable sweet treat. As their slogan suggests, you really can have 'frozen yoghurt your way'.