Chocolate Lounge: Garden City's Quiet Chocolate Affair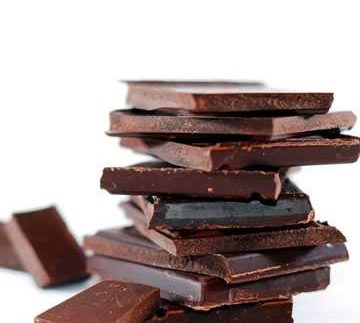 In search of some novelty dining in Cairo's impressive array
of eating options, we recently happened upon the Chocolate Lounge in the
Kempinski Nile Hotel. The restaurant and café is said to blend high-grade
imported chocolates with an exclusive European experience.
The Chocolate Lounge is at the end of a straight
walk through the small hotel lobby, with a spacious ceiling and overhead
skylight, and glimpses of the hotel's two restaurants Blue
and Osmanly from overhanging balconies.
The hotel is quaint, although the
lobby-like design lacks any intimacy: at the time of our visit, the open entryways prompted several
guests to stroll through the vacant tables in search of somewhere else.
The two waiters on duty formed a duo of
impeccably prompt service, keeping a watchful eye on the few occupied tables
throughout the evening. Our choices of a steak sandwich (around
55LE) and a house burger (around 65LE) arrived in dainty arrangements, with
coleslaw and fresh green salads lovingly placed onto porcelain side plates.
While
the items appeared standard on the menu, the food itself was above average.
Sophisticated flavours of onions and black pepper paired with sautéed shitake
mushroom and delicates slices of braised beef made the steak sandwich memorable
to the last bite.The house burger was accompanied by a fried
egg, pickles, onions, tomatoes and spring greens, with crispy-thin cut fries
wrapped in paper on the side.
Having proven itself an adequate contender
in the business of entrées, it was now time to move onto the desserts. Several
samples of the lounge's namesake products can be found in the display cases,
where whole bricks of white, dark and milk chocolate are on show. Flavours of
chocolates vary from anise to lavender to Clementine. Behind the double bar,
copper hot chocolate devices gleam next to espresso machines and at least one
chocolate fountain, which was out of commission at the time of our visit.
Aside from the pure chocolate squares; tortes
and cakes were also spotted, from a decadent flourless chocolate cake to mini-fruit
and custard tortes. Upon our waiter's recommendation, we ordered servings of
the Cairo opera. The multi-tiered chocolate cake confection consists of fine
layers of dark chocolate, cocoa cream, chocolate cake with a marbleised
chocolate shell. Samples of the lavender and Clementine chocolates yielded a
curious mix of herbal infusions; while the dark cocoa nearly but not quite overpowered
the hints of citrus and lavender.
With the full-course meal costing a little
less than 300LE, we deemed the Chocolate Lounge a novel, albeit a somewhat
solitary dining experience. While the atmosphere was lacking, the
cuisine was excellent and light and the chocolates were pleasant. The Chocolate
Lounge is missing a little spark and spice, perhaps; but it is most definitely
worth a visit, perhaps during daylight hours.