Cilantro: Largest Local Coffee Chain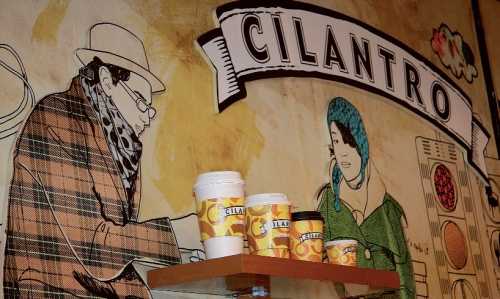 In 2000, Zamalek was host to the first local-turned-international coffee chain to hit the
streets of Cairo .
Ten years later, we can all testify that coffee chains litter Cairo's map like they're going out of style.
Although Cilantro
was the first chain around town to bring its Egyptian label to the market, it
has definitely faced fierce competition from international brands such as Costa,
Second Cup, and more. Nevertheless, it's a popular stopping point for a cup of
Joe and an established hang out for many Cairenes.
Locations are
strewn across Cairo
in various neighbourhoods, and while delivery is available, they tend to run
quite slow. The chain's funky decor is somewhat amusing with its attempt at a
mod feel with faux graffiti, composed of the words of devoted fans and patrons who simply
'love Cilantro!'
Cilantro carries
a range of pre-made sandwiches, muffins, brownies, and juices that are served bottled
and heavily sweetened. If you want a cup of simple coffee with depth and
freshness, you may be disappointed. Their regular coffee is often watery
and tastes like it may have been sitting around for awhile.
While the coffee
isn't the best, the cappuccinos are served with better quality, a decent amount
of foam, and a fresh brownie bite on the side. Lattes and cold, blended frappes
are also on the menu. If you're going for a little decadence, the Eis Cafe
consists espresso served with a scoop of vanilla ice cream. And it doesn't
stop there; the drink is decked out with whipped cream and slivers of coffee
beans, providing an ultimate sweet and caffeinated treat.
Whether you're
grabbing something to go or looking for a place for a good afternoon rendezvous,
Cilantro can be an enjoyable place. However, if you're going for a seriously
good (or strong) cup of coffee, you might want to check elsewhere.