City Drink: Egyptian Juices, Milkshakes & Smoothies in Dokki
126 Tahrir Street (by El Tahrir Cinema)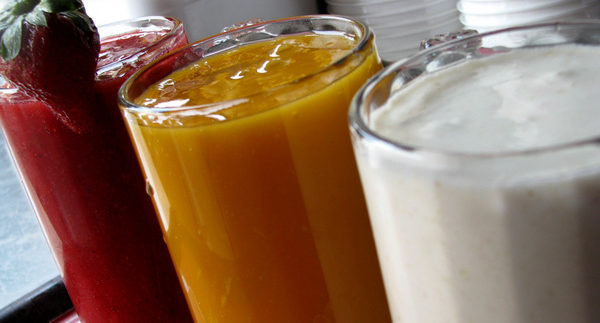 Fresh juice
stands are a dime-a-dozen in Cairo, and some are rightfully considered better
than others. A few might even be bona-fide must-visit spots on a tour of the city.
But more often than not, these local spots are tiny hole-in-the-wall
establishments, recognizable by their single counters and dangling bags of
pomegranates and oranges.
So it has
been to the delight of all those who live and work around Dokki's Tahrir Street
that City Drink has opened up as a kind of celebration of all that is possible
in the world of cold, mixed beverages.
City Drink is open 24-hours-a-day, complete with a fleet of delivery
boys and relentless fluorescent lighting, along with the jolt of caffeine found
in many of the blended options, is guaranteed to wake you up in the morning or
jump-start your evening.
The juices
and shakes come in a glass or takeaway cup about the same size as other juice
stands, and are promptly made to order by a team of four or five guys who are constantly
churning out orders. For the basic
juices – strawberry, guava, banana, etc. – a small cup is 3LE and a large is 4LE. Even the classic milkshake flavours like
chocolate, vanilla, and strawberry, only cost 4LE for a small and 5LE for a
large.
City Drink
also carries a significant amount of specialty drinks. There is an entire section devoted to
cocktails made with mango, ranging from City Drink Mango juice, at 3.50LE/5LE,
to a mix of juice and freshly cut mango slices for 7LE/10LE. The avocado milkshake is particularly refreshing. Not too intense, the avocado actually just
tastes like a better, more natural version of the vanilla milkshake.
Other favourites
of City Drink veterans include the Specter; a mix of dates, apple, kiwi, and
milk (5LE6LE), as well as the Viagra, which is a combination of dates, honey,
ice cream, and yogurt (5LE/6LE). For
something really original, try the Phone Max; a mix of watercress, kiwi,
avocado, and honey (5LE/6LE).
If health
is not an important factor in your choice, by all means try the Borio milkshake
(10LE)..
Finally, if
you want the flavour of some lib (pumpkin seeds) or pistachio nuts without the
trouble of having to shell them one at a time, simply grab a Toaster or
milkshake made with your choice of lib, peanut, cashew, or pistachio. The Lib Shake (4LE/5LE) tastes very similar
to the milk at the bottom of a bowl of Honey Nut Cheerios. The Pistachio (7.50LE/8.50LE) is definitely a
lot heavier, but packs that unmistakable flavour that hits the spot.
Whether you
are looking for a serving of guava juice a cut above the standard glass, or a
creative blend of distinctly Egyptian flavours, stop by City Drink for a cool
swig.