Cold Stone Creamery: Heavenly Ice Cream in Mall of Arabia
Mall of Arabia (Gate 3), Juhayna Square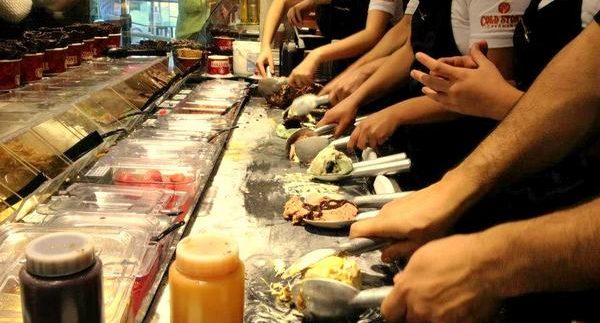 Simply put; we love ice cream. But the best way to introduce this review is to show you the same
video
that had us running to Cold Stone Creamery in 6th of October City's Mall of Arabia.
The very first Cold Stone Creamery shop opened back in 1998 in Arizona by husband-and-wife ice cream enthusiasts, Donald and Suzan Sutherland. Years later, the Cold Stone Creamery name has reached the streets of Cairo – and we couldn't be happier.
The name might have you wondering what exactly it means, but once you step inside the shop, you'll get it; as is customary practice with these specialist American ice cream vendors, your ice cream is prepared on a cold slab of stone. The creation of your cone or cup of ice cream is a little different here. You'll find a large range of different ice creams and toppings at your mercy, some of which go into creating Cold Stone Creamery's signature flavours.
You'll start first by choosing the type of ice cream you want and the canvas from which you will eat it – cone or plastic cup. The cup sizes come in 'Like It' (small), 'Love It' (medium) and 'Gotta Have It' (Large). At this point, one of the shop's staff will grab a ball of ice cream to your desired size and place it on the cold stone work space, before creating a small cavity in the ball in which your additives are introduced – nuts, dried fruits, brownie pieces, etc. The ingredients are then meshed expertly into one.
From the signature creations on the menu, we tried the Founder's Favourite (medium, 28LE); pecan ice cream with brownie pieces, fudge and caramel sauce in a cone (5LE extra). We also tried the Mint Mint Chocolate Chip (medium, 28LE), which consisted of mint ice cream, fudge, chocolate chips and brownie pieces. The combinations are extraordinary; we've never quite had ice cream as unique as this. The textures are great, everything tastes fresh and it never feels sickly sweet. The sizes are very generous, too; a medium is more than filling.
One of the more peculiar parts of the experience is the staff's sudden break into ice cream-related songs, which is triggered by ordering certain ice creams. It had us rolling around with laughter – the staff's enthusiasm is commendable.
It doesn't just stop at ice cream, though. Cold Stone Creamery also offers milkshakes and ice cream cakes, as well as a self-serve frozen yoghurt machine (15 piaster per 1 gram). The cakes come in two sizes, to serve either eight or fourteen people.
As ice cream fiends, this is not a visit that we'll quickly forget. Bravo Cold Stone Creamery, bravo.