Cookies 'N More: Delivery Only Home-Baked Goodies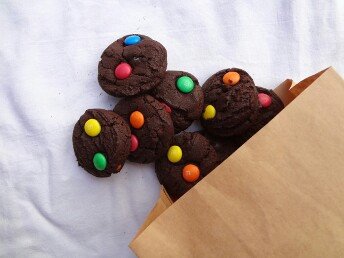 There's no better way to end a craving than to stuff your face with a batch of cookies. Cookies 'N More – Cairo's newest homemade goodies and delivery only bakery – is here to treat us with many unique baked-goods to satisfy our sugary appetite.
While offering a variety of cookies, brownies, cakes, cupcakes, muffins and biscotti, all baked with fresh ingredients, Cookies 'N More also serve healthier options made with whole wheat flour, oats, fruits, nuts and vegetables as well as gluten free products.
All orders are delivered in dozen packs or more; we opted for the Gingersnaps Cookies (40LE), the Oatmeal Raisin Cookies (50LE), Chocolate Chip Cookies (50LE), as well as the Double Chocolate Chip Cookies (50LE) and a batch of 12 Chocolate Brownies (70LE).
Orders should be taken a day in advance, since our order was taken right on the spot, it took longer than expected to arrive.
Since Cookies 'N More are a delivery only service, we expected more from the packaging; a disappointing and unattractive carton box wrapped with tape. However, inside the box each batch of our order was wrapped in plastic paper – like Christmas cookies.
But don't let the packaging fool you. We dug into the Chocolate Chip Cookies first, and were surprised by how well they were baked; perfectly crunchy on the outside and delightfully chewy on the inside, with the right amount of chunky chocolate chips. Although in taste they feel exactly like a typical chocolate chip cookie, straight out of a box, nothing recognizsably different, except a few butter smears left on our fingers, yet the chocolate chips themselves were ideal; not too sweet nor bitter, whether homemade or product branded they deserve a thumbs up.
While Oatmeal and Raisin Cookies are not really a standard order, the healthy sweet snacks are always a good saviour for those on a diet and looking for something tasty with a few calories. Cookies N' Mores' Oatmeal Cookies were the ideal healthy snack; although, they lacked raisins and had a little too much oatmeal.
The Gingersnaps, a mixture of ginger and cinnamon, are not for non-ginger fans. The cookie is baked just the same as the others, but the ginger and cinnamon leave a strong after taste that you will find undesirable if you don't like ginger.
Worth mentioning are the Chocolate Brownies, exceptionally large in proportion, with a crusty surface and a chewy fluffy core the brownies were impressive. While most brownies leave us fully stuffed almost feeling sick with chocolaty sweetness, Cookies 'N Mores' brownies were light and easy on the chocolate, you could have a hundred of those and still feel feathery.
To eat all that and still go for the Double Chocolate Chip Cookies was a suicidal mission, if you want to shut off your sweet cravings, one bite of these and you're good to go. Full of all kinds of chocolate on the inside, and with chocolate chip chunks on the outside, the cookie is only fitting for true chocolate fanatics.
Overall Cookies 'N More did not fail to impress, while they wouldn't be our every day choice when it comes to baked goods, we would still recommend them for special occasions.