Coppermelt: Quality Desserts & Cakes at Chic New Cairo Patisserie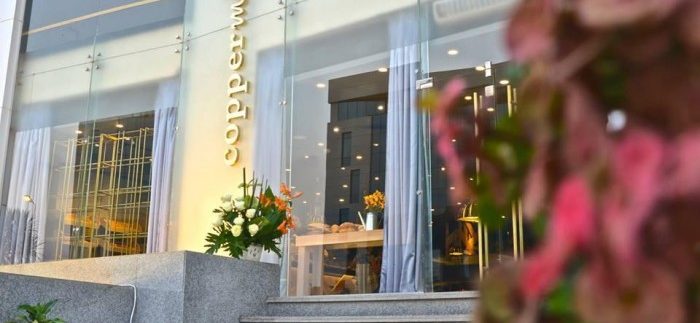 With colder weather come the ridiculously deep cravings for comfort food; winter seems to turn us into chronic sugar-craving maniacs. Thankfully, Egypt has a long, sordid love-affair with sweets and desserts and there's no shortage of new purveyors of such treats.
One of the newest is Coppermelt, which touts itself as a cafe and restaurant – a label that does it disservice and doesn't indicate how expertly made their desserts and baked-goods are.
Located in a rather peculiar spot on New Cairo's only instantly identifiable street, Road 90, Coppermelt gives off a rather postmodern European feel. Boasting endearing Christmas decorations and props at the time of our visit, there's no better trigger to gorging on sweets than the festive season. Its interior carried a chic vibe, with a grey and subtle copper-colour scheme and the place is exceptionally and immaculately organised.
We were greeted by a pleasant server who graciously introduced us to what the charming patisserie had to offer, and took us around for a mini tour. Starting off at the dessert side, we saw bright, intricate cakes (165LE-175LE) with a Blueberry-Lychee looking particularly alluring. The colourful cake bites (6.5LE/ piece) display came next and our server gave us each a 'bite' to try; the Red Velvet and Chocolate- Peanut Butter bites were heavenly and melted right in our mouths. We saw some more displays of flavoured meringue, cookies (3LE-17 LE/ per cookie), brownies (12LE/per piece) and potted dirt cakes (25LE), as well as traditional Oriental sweets (150LE/ kilo). Another interesting dessert creation we found was the Blueberry Mehalabeya (19LE).
Moving on to some of the savoury options, Coppermelt offers an array of sandwiches and bagels stuffed with salmon, chicken, roast beef and many other options (20LE-25LE). We also spotted some mini pizzas and bread loafs in all colours, shapes and sizes.
After our tour, we had to make the painfully limiting decision of what to order. After some serious thought, we went for some red velvet cookies (8LE/cookie), some chocolate brownies, a piece of red velvet sponge cake (8LE) and a vanilla dirt cake (25LE), which were quickly wrapped up in chic little boxes.
To say the desserts were phenomenal is an understatement; the cookies were chewy, not too sugary and filled with white chocolate chips, while the chocolate brownies were also quite decadent, yet still attained a certain lightness to them despite bursting with dark chocolate chips. Moreover, the dirt cake was quite creamy and mouth-watering and the red velvet sponge cake was delicious despite tasting like it needed a bit of a kick, probably due to its lack of any frosting.
There's a very good chance we'll hibernate throughout the winter season at Coppermelt. With such well-ordered displays, friendly service and delicious treats, Coppermelt is an excellent addition to New Cairo.