Craffle: Sweet but Sloppy Waffles and Crêpes in Maadi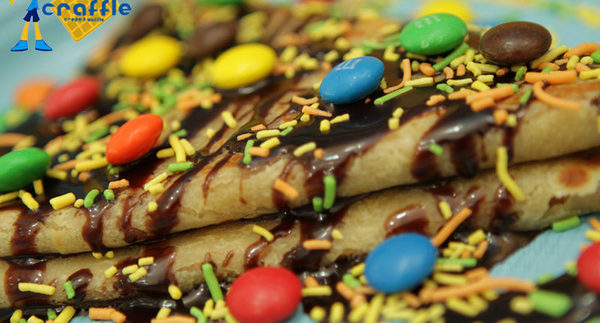 Yes, the
name does indeed sound a bit odd, and it took us a while before figuring out the ingenious word play. Located on Road 233 close to Egy Puppy in Maadi,
Craffle is a teeny tiny crêpe and waffle place. The interior is nothing special
to write home about; the overall venue actually looks a bit unfinished or in
desperate need of renovations.
There is
a counter at the back of the shop filled with jars and other waffle toppings.
We also spotted Ferrero Rocher, Snickers, Kit Kat and Kinder Bueno bars. Overall, it looked a bit messy. A freezer stocks Moevenpick ice cream and at
the time of this reviewer's visit, only two flavours were available. When we
requested the menu, the staff simply pointed to all the items on the counter as
if to say 'This is the menu, what more do you want?'
After some nagging, we received a
paper that was ripped and covered in handwriting. This was supposed to be their
menu. It was only then that we discovered another staff member, who had until
then been hiding behind the counter. After deciphering the menu for a while
(seriously, the Rosetta stone was probably easier to figure out), we opted for a
waffle with Ferrero Rocher (20LE), a Nutella crêpe (13LE) and a crêpe with honey
and nuts (14LE).
The
waffle failed to impress this reviewer. It was very soggy and the biggest
disappointment was the white chocolate sauce on top; it didn't taste like
chocolate at all and the texture was a bit slimy and translucent. The Ferrero Rocher
was crumbled on top and was of course delicious, but overall the entire waffle
concoction lacked taste. The Nutella crêpe was good but then again, it's such a
simple snack that it would be difficult to mess up. The Nutella serving was
generous but the crêpe was a bit too thick. The same goes for the honey nut crêpe;
its thick dough made it more of a meal instead of a snack. That being said, it
was fine and for its price we felt that we shouldn't complain too much.
The
staff at Craffle are friendly but they didn't seem to know what to do with
themselves. We left Craffle feeling slightly nauseated by the sugar rush and
feeling a bit weird. We actually looked up to each other and said 'Well, that
was strange wasn't it?'

So if you are in
desperate need of some sugar, Craffle is an ok option, but if you prefer
quality desserts, we recommend you try somewhere else.