Some food trends start among people and quickly go viral, such as the many TikTok recipes that have swept the internet in recent years. Who can forget Gigi Hadid's Vodka Pasta Recipe? While in other cases, a brand will select a given product, beverage, or even a specific flavour they wish to promote, like the Supreme Croissant. Matcha was made famous a few years back, especially here in Egypt – everywhere you go, you would find matcha-flavoured anything but never a matcha speciality bar. That's where Cult comes in; they put matcha on the front line of their speciality items, along with New York-style bagels, to have the edge over all the other coffee shops in the scene.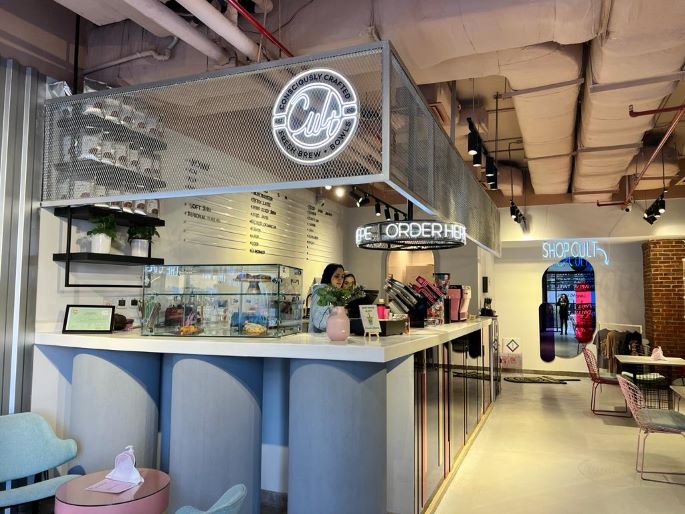 We visited Cult at Twelve by the Platform in Sheikh Zayed a few days ago to try their famous bagels and matcha items. At first glance, everything looked edgy, from the cool interior's bright colours to the hot-pink menu. As we were browsing the menu, we saw a flyer on the counter for a new drink. Lavender Matcha (75 LE) – so we decided to try it in medium size with almond milk. It only comes in an iced option, but we didn't mind that. We also got one Caramel Cappuccino with regular full-cream milk (67 LE). The cappuccino was great and had a drizzle of caramel on top of the frothy milk, which was delightful. However, the Lavender Matcha fell a bit short of our liking; the lavender was too aromatic and robust, so it overshadowed everything else, including the matcha. We decided to get one Blueberry Lemonade instead (45 LE), which was tangy and balanced with tiny bits of blueberry that gave the drink that extra textural element.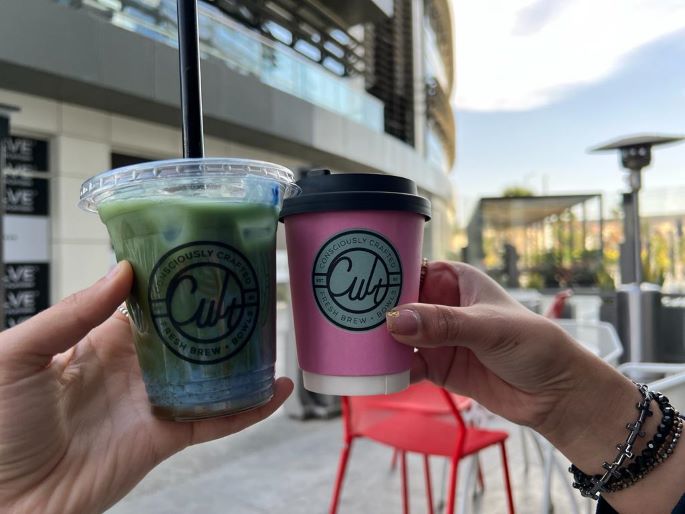 As for our breakfast options, the menu had a few intriguing possibilities, but we went for one Halloumi Bagel first (115 LE) – an everything bagel with grilled halloumi and caramelised onions. Then we got to try something from their "The Breakfast Club" section; we tried the Classic (125 LE) – we got to choose from three styles of eggs and numerous toppings, all served with a side salad and cubed potatoes. We decided to get the scrambled eggs with cheese and vegetables sided with a bagel.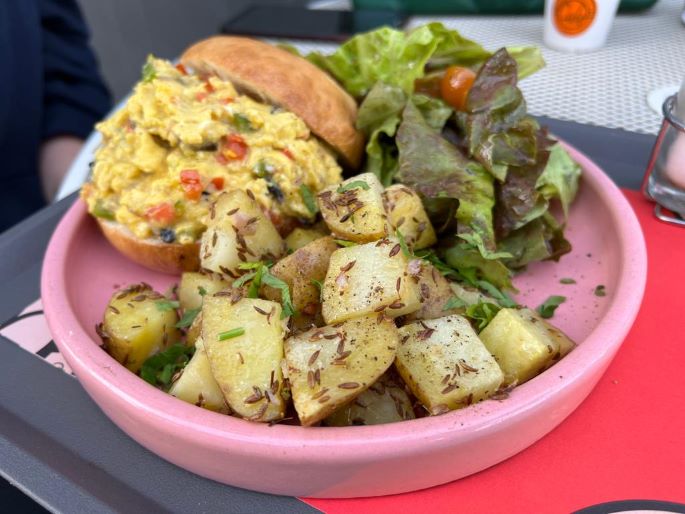 The dish was appetising in so many ways; the scrambled eggs were creamy and flavourful, the potatoes were perfectly cooked, and the salad dressing had a hint of sweetness that went great with the overall dish. The Halloumi Bagel was also quite flavoursome because of the caramelised onions; however, a bit on the dry side. The everything bagel and halloumi both had chewy, tough textures and needed something extra to give them that satisfying bite.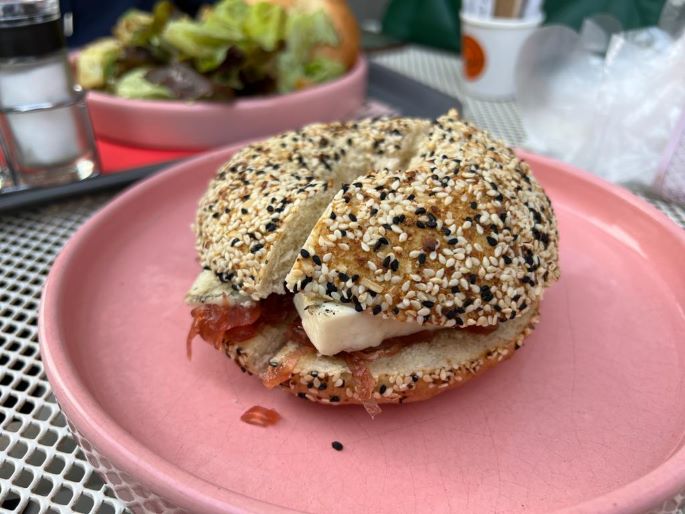 Our experience was delightful, the staff were friendly and helpful, and the aesthetics were very different from most places. They had a few intriguing options on their dessert menu, like the white chocolate matcha cookie, but the breakfast had us feeling pretty full at that point. We are definitely coming back and trying some more cool creations soon.