Galleria40, Giza Governorate

It's not an easy task to standout as an ice cream shop in Cairo. However, Dara's Ice Cream managed to do just that and our experience was quite remarkable.
Located in Galleria40, Sheikh Zayed, the venue has a black and white theme to it. A wall with lots of photos of the owner made the place feels homey and personal. What was missing here is the beautiful ice cream display we all look forward to at any ice cream shop, but instead there was just a freezer and you couldn't see where the ice cream was actually coming from. When we asked them about this missing element, they said that not having the ice cream exposed was better hygiene-wise. Yet, that definitely sacrificed a big joyful part in an ice cream experience. There's a black board hanging on the wall with all the available flavours, though.
Before we get to the ice cream, we were informed that it'll take 15 minutes if we want a chocolate chip cookie (27LE) with our ice cream, and of course we ordered one.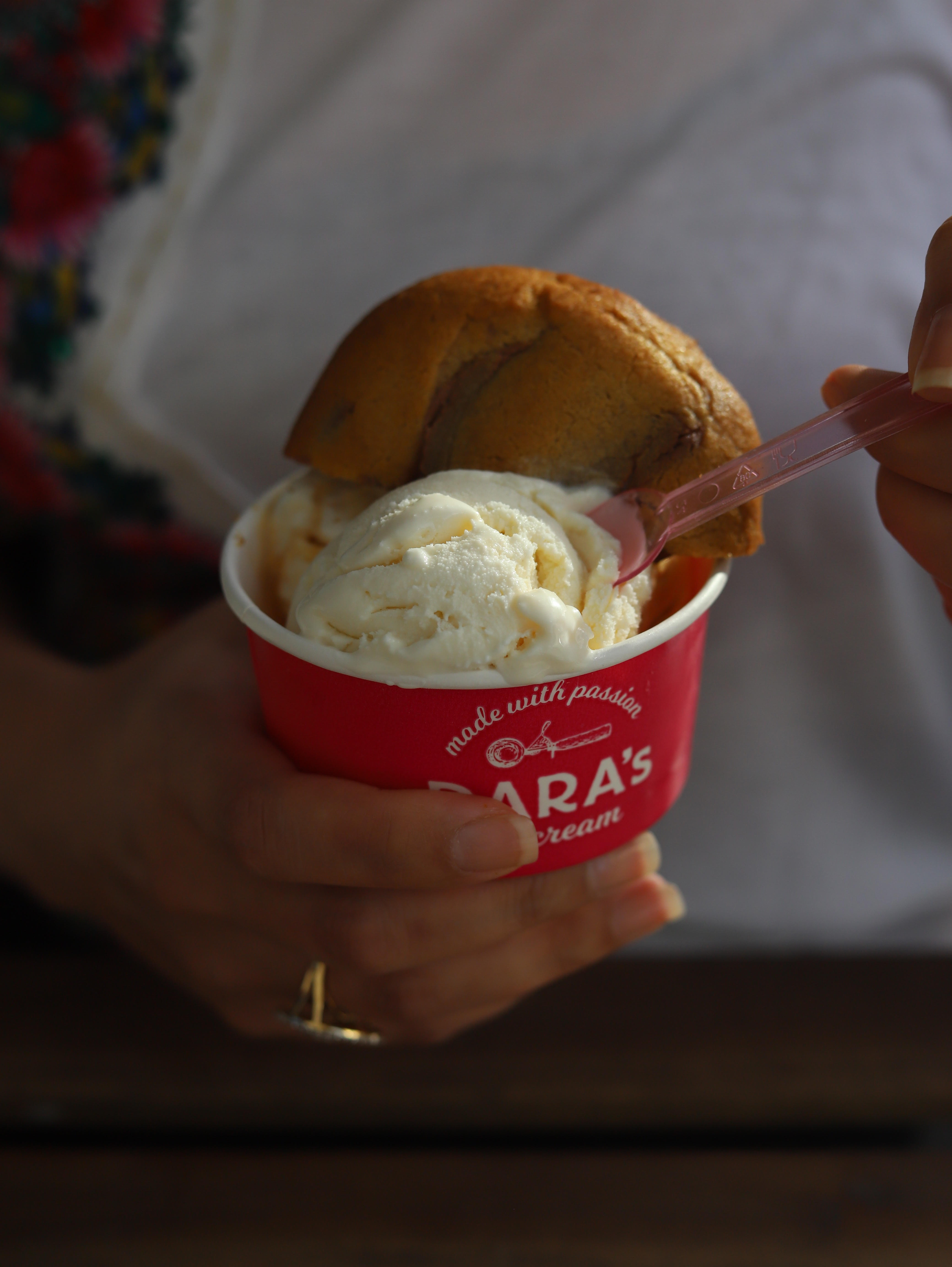 Our first order was a cup containing a scoop of White Coffee (31 LE) and Honeycomb (31 LE) ice cream with half of the cookie on top. The texture of the ice cream in general was simply flawless. It was very rich and creamy (but not in a milky way that would overpower the flavours), yet slightly elastic. The White Coffee ice cream tasted like a delicious frappe with a strong coffee flavour in form of an ice cream scoop. Meanwhile, the Honeycomb simply lived up to its name and tasted exactly like honeycomb.
As for the cookie, we had mixed feelings about it. On the one hand, we liked the fact that it was thick and freshly made. On the other hand, we wouldn't eat it on its own as its flavours and texture were a bit bland and unremarkable.
The second cup we ordered contained a scoop of Banana Madness (31 LE) and a scoop of Brownie Fudge (31LE), with the other half of the cookie on top. The banana madness ice cream was generously filled with caramelised chocolate bits; this was a perfect match to the bold banana flavour. The brownie fudge was also rich and refreshing, generously filled with homemade fudgy brownie bits that we absolutely loved.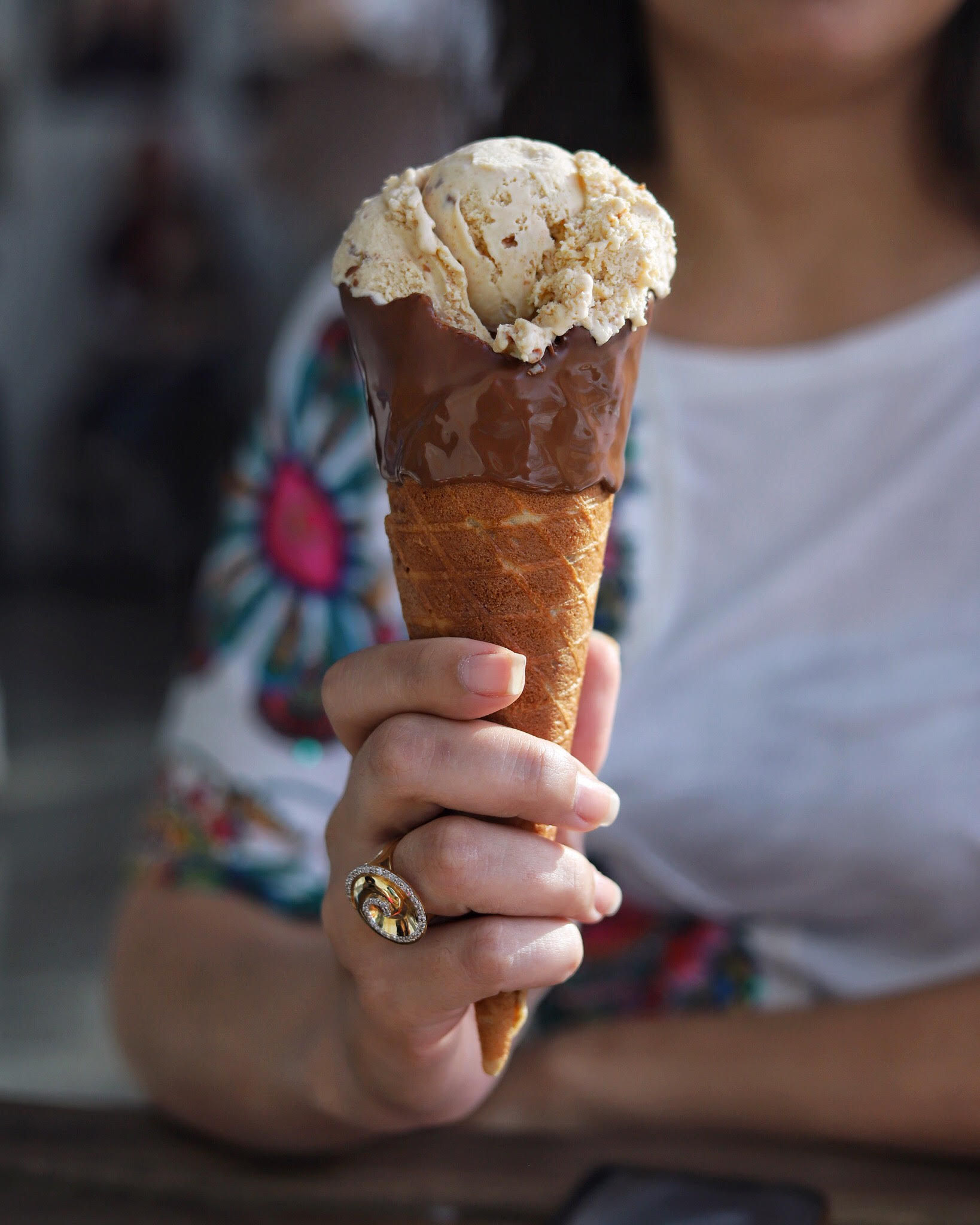 Lastly, we ordered a scoop of Peanut Butter and Chocolate Chips (31 LE) served in a Chocolate Waffle Cone (18 LE). They placed the freshly made waffle cone under a Belgian chocolate tap and coated the top part of the cone with it. The ice cream had a bold peanut butter flavour, and the addition of chocolate chips give it a similar flavour to a Snickers ice cream.
All in all, we absolutely had a great experience at Dara's Ice Cream. Not only we did we admire how all flavours are made with real ingredients, and without the addition of any artificial flavours, but we also enjoyed their cheerful, energetic, and more than helpful staff. This is the kind of energy you'd want in an ice cream shop. But you know, everything comes with a price.