Devour: Cake Pops in Mohandiseen
18 El Fawakeh St., (Off Abdel Hamid Lofty St., Behind Mostafa Mahmoud Mosque)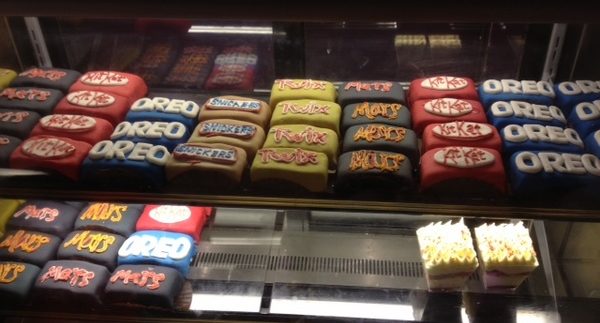 Just about everyone loves a good, fresh cupcake and new bakeries pop up in Cairo almost constantly to keep up with the craze.Whilst strolling down El Fawakeh Street, a quiet back road in Mohandesseen, we stumbled upon a purple and gold shop, beckoning us in with its illuminated heart shaped logo. Devour claims to 'bake your wish come true' so naturally we felt we should test such a courageous claim and sample these fanciful creations.
We walked across the vast, bland, empty shop floor between the entrance and the glass display counters and peered at the cupcakes, cake pops and small cake bars on offer. Because we were in the area a little late in the evening, there were lots of empty spaces where exotic sounding cupcakes had once been. Along with the fashionable chocolatey types; Oreo (12LE), white chocolate (11LE) and Kinder (12LE), there was also a selection of slightly alien flavours such as red hot chilli (10LE) and sweet potato with marron (13LE).
The small, round 'cake pops' – resembling tiny cupcakes – intrigued us the most, so we purchased a chocolate one and a red velvet (5LE each). Not usually fans of red velvet, we were surprised to find that it was delicious, soft and sweet; devoured in a millisecond, whilst the chocolate one was equally as yummy, covered in a thick and messy layer of sticky milk chocolate icing.
Of course, we had to try the actual cupcakes so we ordered two of our childhood favourite brands; a Kinder and a Twix caramel cupcake – both of which were disappointing. It may have been because we arrived a bit late in the day, but we don't think the sponge should have been stale. The Twix cupcake had a very mean amount of caramel filling, which happened to be too sugary anyway. The toppings were the best bit being of sweet, fluffy mousse, while the Kinder one sported some chocolate chunks. However, neither really tasted of what they were supposed to.
We also spied a counter flaunting small, rectangular cake bars, decorated to imitate the wrappers of famous chocolate bars. Some were fairly accurate copies whilst others were messy and even incorporated the wrong colours. We chose the most carefully decorated; a bulky Kitkat cake (22LE). The saying 'good frames won't save bad paintings' sprung to mind when we tasted this one – we couldn't even finish it. Instead of crunching like a Kitkat, the filling was soggy and the icing was far too sweet, even for our sweet tooth.
Before we left, we checked out the festive cupcake toppings, small Santas and snowmen ready to be placed on top of a new batch – admittedly they were cute – however, if they were made of the same icing as the Kitkat cake, they're also likely to be sickeningly sugary.
Although there were some good ideas and unusual recipes, apart from their amazing cake pops, Devour need something special to impress the devout followers of heavyweights, Nola and Crumbs.