Dukes: Royal Teas & Cakes in Heliopolis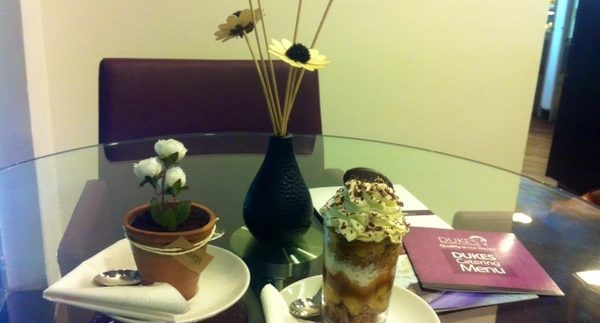 El Horreya Street in Heliopolis is home to a number of curious shops and cafés. However, Dukes Patisserie and Tea Lounge seduced us much more than most, with its slick black, white and glass frontage.
We made our way up the front steps, eagerly anticipating the sweet treats awaiting us. After flinging open the double doors we were bombarded with the most incredible bakery smells. Five large glass counters were fully stocked with all varieties of lavish, artistic cakes, pastries, breads, small desserts and bite-sized chocolates.
Attempting to contain our excitement, we made our way over to the small seating area and plonked ourselves down on one of the modern, glass tables and picked up a menu. Unless you're going for one of their freshly made savoury bites, such as a turkey camembert sandwich or a smoked salmon cake soirée, the menu was not overly useful – other than for making us hungrier – as there were no printed prices.
However, the catering menu is worth taking away to look over as Dukes can provide you with their classy creations for any special occasion. A selection of mini sandwiches costs 140LE per kilo and the soups, pastas, fettahs and meat dishes all serve up to 12 people – more if they don't eat a lot!
The beautiful, pre-made, large tarts and cakes range from 130LE to 170LE, apart from the extra-special meringue cake which goes for 195LE. Dukes can also make cakes to order; just tell them or show them what you want and it's done flawlessly within two to four days.
A selection of small, handmade chocolates cost 160LE per kilo; we were given a crunchy, milk chocolate truffle to try and needless to say, we were tempted to take home an entire kilo – or three. The classy Dukes boxes also allow you to take home a selection of two, six, eight or ten little cakes, costing up to just 17LE each, making them perfect for a tea party or any other occasion when scrumptious desserts are desired.
Rather than reading about everything on the in-house menu, we found it easier just to fall directly in love and point at the actual things.
We were particularly fascinated with a display of what appeared to be terracotta flower pots, both big and small, sprouting pretty fake flowers with mini labels on the sides. The enthusiastic sales assistant introduced us to the 'Dirt Cake', patented by Dukes.
Thankfully, no dirt is involved in their making, just chocolate variations, and you can choose between an individual pot (25LE) or a large one to share (180LE). We felt compelled to try one of the small maron dirt cakes, which, once we got over the idea of eating out of a plant pot, was delicious.
Underneath the chocolate au gratin – the shavings were used to create the illusion of soil – was a smooth, sweet moose. Not only was the presentation quite charming and unique, the flavour was equally as pleasing.
Being a huge fan of banoffee, we also ordered a banana, caramel and biscuit layered combo. This too was amazing, with banana bits, thick gooey caramel and a hint of coffee in the fluffy cream. The only fault was that the broken biscuits were all the way at the bottom of the glass so by the time we got to it, there was nothing left to moisten them.
As expected, there's a selection of flavoured teas and coffees to choose from. To help wash down our food, we shared a teapot of Twinings green tea with peppermint (9LE per bag) because in our book, you can never go wrong with a bag of Twinings.
Dukes is a lovely, sophisticated patisserie, serving a range of unique cakes and exquisite foods and is well on its way to becoming one of our favourite spots for an afternoon tea.