Egyptian Gamers Association: Gaming with a Difference in Maadi
5, Road 256 (in front of the Grand Mall)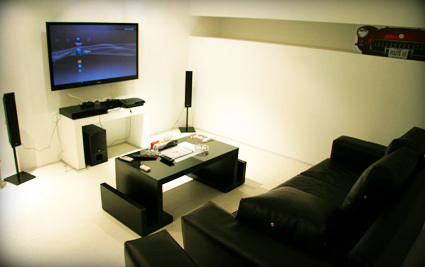 How many times have you visited
an internet/gaming café in Cairo and felt uneasy sitting in a room filled with
stale cigarette smoke and young boisterous teenagers with wandering eyes. All
you want is to sit and play a game without having to worry about being hassled
or leaving with your clothes smelling of an ashtray. This is where the new
gaming venue known as the Egyptian Gamers Association (EGA) comes in.
Located on a quiet street just
off Maadi Grand Mall, once you walk into the bright interior, you're seduced by
the minimal white decor, comfy black sofas and long tables complete with
gigantic, sleek flat-screen TVs. It's like entering a slick bachelor's pad,
only without the dirty laundry.
At 35LE for an hour's playtime, gamers
are invited to use the Playstation or Xbox upstairs, or for more privacy there
are three secluded rooms located downstairs – these come with a telephone so
that the staff can be easily reached while you continue your game from the
comfort of the sofa.
A vivid poster sends a warning
that you are entering a gamers' area as you wander down the stairs into an airy
basement hallway. We were ushered into a spacious private room with the same
interior and fixtures as the upstairs and of course the colossal flat-screen TV.
A menu sits on the table listing a variety of drinks and sandwiches; everything
you would need to keep yourself refuelled during a long game.
EGA is not only a place for
gaming fanatics, it also caters to those who would like to watch a film with
friends (they have a large selection of DVDs), surf the internet or hold a work
meeting in one of the rooms.
At the beginning we experienced
some difficulty in getting the Playstation joy pad to work, which required us
to leave the room and yell upstairs for an employee. He was listening to music
at a deafening level and in the middle of a game himself, so it took a few
calls to get his attention. After the problem was fixed though, we settled into
playing Call of Duty 3: Modern Warfare,
switching to Street Fighter and then NBA Street Basketball.
EGA boast that they are 'the new
and ultimate gaming experience' and endeavour to make the centre more open;
attracting crowds that wouldn't normally visit gaming venues – especially
females. Although the centre offers privacy and top of the range facilities we
felt that it lacked the first class service you would expect from such a place.