El Abd: Old-School Cairo Bakery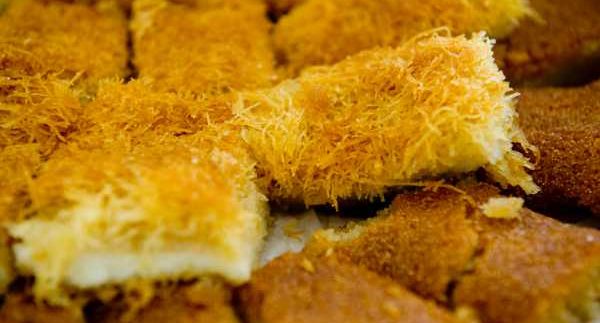 Sweets are a way of life in Egypt, conveniently popping up at
every turn and accessorising all important occasions as if part of a conspiracy
to keep our waistlines perpetually thicker than we'd like. Although tastes now
have turned towards fancier, western-style bakeries, no confectioner
has contributed more to the Cairene sweet tooth than El Abd.
With two bustling branches in the heart of Downtown, El
Abd is a quintessential neighbourhood bakery– except that, in this case, the
neighbourhood refers to the whole of Cairo
and beyond; and that's how far people will go for a taste of the treats at
El Abd. Leaving aside El Abd's fantastic ice cream selection, which we
encourage you to sample, the pastries and sweets on offer are
Egyptian classics; and we love them for it.
Although it kills us to have to choose, our favourites at El
Abd are probably the sticky sweet basbousa, kahk and crunchy-soft konafa. The
massive selection of cookies and biscuits is also very impressive, as are the
chocolate croissants, which hark back to the glory days of old Downtown.
Despite the small size of the El Abd shops, you will be able
to find virtually every traditional sweet that you could ever want here. With
high-quality sweets on offer at real prices starting at just 10LE per kilo, El
Abd should be on the radar of every dessert lover in Cairo.
If you are not familiar with the workings of Cairo's
bakeries, remember to take a number and choose your selection of sweets before
paying the tab and picking up your wrapped package of goodies. Tips all around
smooth the process, especially during rush hour when El Abd is literally
bursting at the seams with eager sweet hunters.
Traditional baking methods mean that El Abd's sweets are some
of the most flavourful and fattening in this city. Forget the tasteless or
overly sugary cakes at local Western-style bakeries; next time you are invited
somewhere, impress your guests with a spread from El Abd.
For a perfect day in Downtown,
grab a bag of chocolate croissants with hot coffee or fresh orange juice from El
Borsa Street while enjoying the antics of passersby:
for those who seek it, Downtown Cairo still has a (sweet) charm beneath
all the hassle.