El Bandar Café: Low-Brow Maadi Café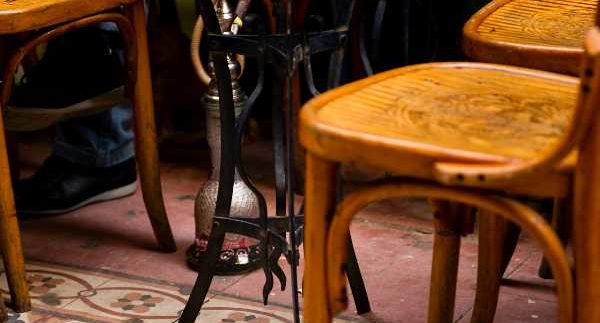 To say Cairo has its fair share of mid-range cafés is a gross
understatement. Located on the shop, bakery and business-ridden Road 233 of Maadi's Degla
neighbourhood, El Bandar Café finds itself in a popular niche with its
enjoyable-yet-mediocre cuisine, an atmosphere heavy with perfumed shisha smoke,
and popular radio tunes blasting through the speakers. The café's crowd is a
mixed bag of young socialising Cairenes and seasoned shisha smokers catching up
on the evening's gossip.
Depending on how often you frequent El Bandar Café, service may vary.
Newcomers may have to be more insistent than usual to ensure prompt coal
refills; while regulars need barely bat an eyelid for the shisha to be refilled.
Years of poor ventilation have rendered the interior of El Bandar Café a
bit shabby, albeit in a cheerful way– seat cushions are threadbare in places.
Guests can choose to sit on low seating by the entrance or take a seat further
inside at one of the several tables.
No-nonsense shisha service is El Bandar's forté– this means that you
shouldn't expect any fancy fruit and flower concoctions; stick to the regular
flavours such as cantaloupe, grape, apple, mint and the like for 12LE a shisha.
Like their tobacco menu, El Bandar's food is entirely ordinary. Shish
tawouk (around 17LE) is served alongside a pile of greasy fries, as is the
chicken pané (around 20LE). Entrées and starters include a modest mix of
international and local dishes, from sambousak to steak and club sandwiches. The
shish tawouk was slightly dry with a substantial garlic bite, and cubes of nicely
charred chicken. The chicken pané consists of two deep-fried slabs of chicken,
heavily salted and calorie-heavy for those in the mood for a greasy treat.
Having ventured into the dessert section once or twice, we discovered
that anything listed with fresh fruit is more likely to feature canned fruit; adjusted
expectations make for a more satisfactory experience. Fresh juice selection
depends on what produce is in season; if you visit during summer, the highly
sugared yet refreshing melon juice is delightfully refreshing.
Keeping with its themes of average everything, prices are mid-range:
perhaps a bit more than you would care to spend at such a casual and low-key café;
but certainly never enough to prevent you from stopping by for a late-night
shisha. An evening with nostalgic pop hits playing on the radio and some good
conversation are never ill-spent in El Bandar, where the café wears its
bare bones atmosphere proudly, and has earned a loyal following for its honest
presentation.