El Churro: Egypt's Spanish Donut Decadence
Citystars, Omar Ibn El Khattab St.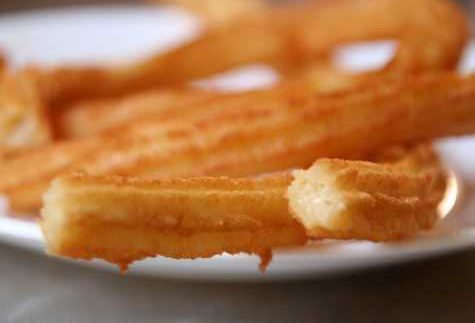 On the 5th floor of Citystars' Phase One, El Churro is
a quiet corner café with an atmosphere uncharacteristic of the sprawling mall. The two-tiered café is embellished with sleek, dark wooden tables, cosy armchairs
and soft, warm lighting; very apropos of the rich chocolate experience awaiting
each customer.
The name of the restaurant comes from a popular
Spanish sweet snack made of thin ropes of fried dough. El Churro serves
the Spanish donut dusted with powdered sugar alongside a dish of dulce de lece
or your choice of dark, white or milk chocolate for dipping the
churros into. Made to order, the churros are golden brown and crispy on
the outside with soft centres, while the melted dark chocolate dip is silky
with more sweet notes than bitter. One serving of Churros is offered for 21LE; other
desserts including cakes, mousses and fondue are mostly priced to share.
El Churro has a few light options for anyone looking
for healthier options. The roast turkey sandwich (26.90LE) is among the list of
salads and sandwiches available; the large, hot pressed sandwich of turkey,
cheese, lettuce and mixed peppers was tasty and fresh with a bit of a spicy
finish. Served with a side of crisps,
this dish was very satisfying.
While the drinks list at El Churro focuses on
chocolaty beverages, the expected café options are also available, including an
excellent espresso served in a shot glass. Watch out, though; the only water
bottles available are Evian, which will cost you 12LE for a small bottle.
Various types of high-quality chocolate and additional
flavours compose the list of hot chocolates and milkshakes. The raspberry rumba
(21.50LE) comes exactly as pictured on the menu. A delicious chilled blend of
white chocolate, vanilla and raspberries with dark chocolate shavings floating
on top of the frothy concoction made this drink a notch above the average café
shake.
El Churro's chocolate drinks, desserts and sandwiches are an indulgent
diversion from the chaos of Citystars, so next time you need a bit of a
pick-me-up at the mall; splurge on some Spanish dessert decadence.