El Karnak: Intense Oriental Sweets & Puddings in Downtown Cairo
48 Magles El Shaab St., (on the corner of Muhammad Fareed St.)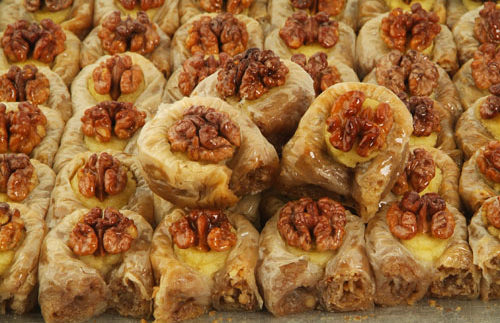 Cairenes love sweets, and consequently there are a plethora of famous bakeries and
dessert venues in Downtown Cairo. Your average Cairene frequents the usual
places like El Abd in order to satisfy his/her insatiable sweet tooth, yet the
locals and true dessert aficionados opt for the longer journey to El Karnak to devour
a secret called 'the bomb'.
El Karnak
is located on Magles El Shaab Street across from Souk El Etneen, and a narrow
alleyway separates the storefront from a small seating area. Three or four
tables furnish the extremely bare area, but no one visits El Karnak for its
décor. Rather, any passerby will immediately recognize this local favourite by
the masses slowly pushing into the small storefront with receipts in hand.

The
majority of El Karnak's patrons make the trip through Downtown's labyrinth of
backstreets for one reason: El Karnak's infamous qonbola, or 'the bomb'
in English. A healthy helping of konafa serves as a base upon which a medley of
bananas, apples, and basbousa soak in strawberry and mango juice, honey, and
milk cream. Finally, a dollop of custard sits upon this culinary delight,
which, despite its local popularity, remains one of Downtown's best-kept
secrets. For just 10LE, this original dessert is served in a hexagonal deep-dish take-out container and has enough sugar to trigger early onset diabetes.
It serves as both a challenge for those who wish to tackle the deep dish alone and
as a great communal dessert to be shared among friends.
Though the
bomb is El Karnak's most sought-after dessert, you can also find yogurt (1LE),
fruit salad (8LE), and konafa in milk (4.50LE). If you want to take some tasty
treats home, El Karnak also sells kilos of basbousa (12LE) and konafa (12LE).
For another 10LE, you can add custard cream to your kilo of desired sweets. This
reviewer sampled the rice pudding (3LE) and would recommend it as a side dish,
but by no means a substitute for the bomb. El Karnak's menu is only offered in
Arabic; so be sure that someone in your group can read Arabic if you want to
experiment with different sweets.
Although El
Karnak may not be the prettiest venue in Cairo, it is certainly
worth visiting to satisfy your sweet tooth. Its signature dessert, the
bomb, is a rite of passage for anyone who frequents or lives in the area.