Eros: The Greek Gods Come Out to Play in Egypt
1 Gameat El Dewal El Arabeya St.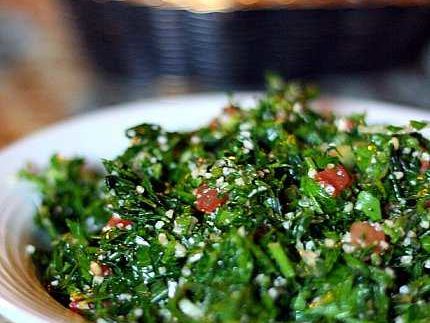 With the host
looking like a bouncer guarding the exclusive entrance, this easily missed spot
at the crossroads of 26th of July and Gameat El Dowal Streets looks more like a
night club than a café. However, walking
past the 'bouncer' into the café reveals a much more relaxed vibe, in grand
surroundings fit for– dare we say– Mount
Olympus, rather than a Cairo restaurant.
Reliefs of Greek
lettering and symbols wrap around the walls and wood accents, giving the
outdoor area an earthy quality. Stone
flooring illuminated with blue lights and multi-level walkways make for an
interesting design concept. The café has an outdoor area with dim mood
lighting, regular dining tables, a bar and an open ceiling, while the indoor
space is brighter and divided behind glass and air conditioned, with ivory
medallions on the walls and ivory leather chairs.
At the time of
our visit, the crowd included old and sophisticated and young and hip alike,
though the outdoor area was twice as popular as the indoor seating. Maybe the row of flat-screen TVs playing
Mazzika and a rolling Playstation unit (30LE per hour) are slightly off-putting
to some. We didn't think so; they also
have free Wi-Fi; just ask for the password.
We decided to
stick with the oriental/Mediterranean/Greek theme by selecting the Oriental
salad (25LE). Arriving in a square dish,
the mix was divided in four sections and came with a garnish of tomato and
fried crispy bread that should have been already mixed into the fatoush. The
rest of the fatoush was good, the predominantly cucumber portion was tangy and
well-seasoned with various herbs and spices. The taboulah was well-mixed and tart, with equal portions of parsley,
tomato and cracked wheat. While we must
admit we're not hummus fans, this one we could eat; and its taste was enhanced
by the delicious Greek style flatbread basket. The tomeya was light, creamy and subtle enough not to create a garlic
force field.
We weren't such
fans of our main course of lamb fatta (52LE): though the portion was huge, the
meat was a bit bland and could have been fresher. The pulled chicken with
fries, rice and roasted vegetables (49LE) was beautifully roasted, succulent
and flavourful, but the vegetables came shredded on top when we were expecting
them on the side. The breast was a
little tough and we could have done without the plain rice.
We quenched our
thirst with fresh watermelon juice (16LE), which was divine, refreshing and the
best we've had. The Florida
fruit cocktail (18LE) was thick and fruity with mango, strawberry and guava.
Dessert was an
average Nutella crêpe that consisted of four rolled halves with real Nutella
and a nice light cream cheese sauce with a drizzle of chocolate: not bad but a
bit forgettable.
Finally, we had
to sample their shisha menu: with flavours like Halls, Chicklets and Strawberry
Ice, it was hard to resist. Not being
big shisha smokers, we were happily content with the smoke of our Strawberry
Ice (20LE) being light, though the shisha guy adjusted that soon enough and all
you regular puffers would have been be just as pleased, we're sure of it.
Overall, Eros
strikes us almost as a Greek temple to the Gods, a very cool café with décor
that's definitely unique and special for Cairo.