Euro Deli: Low Key, Outdoor Breakfast in Maadi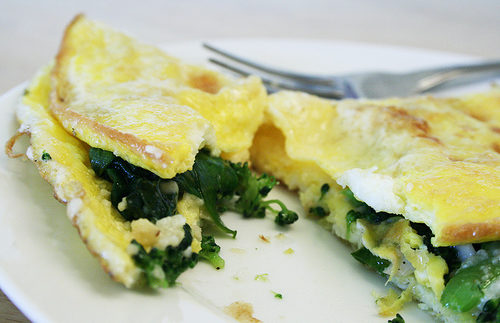 This city of cement that is Cairo, is unforgiving when it comes to dining al fresco – and we don't mean in front of the foul cart. The oddity that is open air-eating with some greenery around compels us to return to the same establishments, over and over again. Because of this, we cannot help but share when we stumble upon a new hideaway that temporarily satisfies our outdoor yearnings.
Located on a quiet street in Maadi Degla, this Euro Deli location took us by surprise with its relaxed atmosphere and nice variety of seating options. The spacious outdoor area is lined with trees and shrubs, where tables are located under the sun or on the covered patio. Indoors you'll find tall tables with bar stools overlooking the patio.
Open at 9AM, it makes for a great breakfast spot on the weekends. It's also a practical venue for casual business meetings and working on–the-go.
Before we get to the heart of the matter (food), bear in mind that patience is a virtue. Like too many places we know, the staff seemed to disappear frequently making it difficult to catch anyone's attention. Once the order was placed, though, it didn't take long until we were digging in garden side, with little to no traffic around.
Comprising the menu is a variety of lighter eats including breakfast, mezzes and salads (14LE-30LE), a wide sandwich selection (16LE-28LE), pizzas (18LE-28LE), heavier hot dishes like steak and chicken platters (20LE-54LE) and most importantly, desserts (7LE-24LE).
Available to drink are coffee options including espresso doppio for 14LE, milkshakes, cocktails and fresh juices. For 12LE, our fresh lemon juice was mediocre, though we hear the strawberry is a routinely good pick.
Seeing as how this visit was for breakfast, we opted for the reasonably priced Florentine omelette. For 14LE, the omelette was paired with two meagre slices of melon, two slices of toast and a side of potatoes – either hash browns or Euro deli's rather addictive home fries; served with a side of the also addictive pesto sauce. The omelette was simple, filled with a generous amount of spinach, sautéed onions and mozzarella cheese. With a side of home fries, it was dangerously tasty.
Favoured lunchtime alternatives include fattoush (14LE), mixed sambousek (16LE) and the hearty chicken Philadelphia sandwich (24LE). Last but not least, it would be a shame to forget the chocolate fondant (24LE). Perfectly spongy, stuffed with fudge and served with cold vanilla ice cream, the drizzled chocolate on top is always in generous supply – making this a must-try for fellow dessert weaklings.