Fauchon: French Pastries in Cairo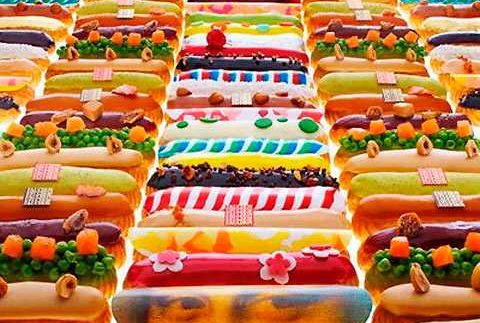 Driving past the
tempting duo of bakery heaven– Fauchon and TBS– in Zamalek quite frequently by
taxi, we have often pondered what wonders lie inside.The verdict is…well, less than impressive, at
least on Fauchon's side.
First, let it be
said that the French pastry shop itself is quite snazzy, with a nice storefront and
beautifully colourful displays of sweets to tickle your fancy. Especially eye-catching are their chocolate
gift boxes and glazed almonds that would make any baby or bridal shower guest
drool.
Even inside, the picturesque
array of tins and boxes, wines and petit-fours make you feel exactly as though
you are standing inside one of their shops in Paris.

However, that's
about as far as it goes. Tempted by the
look of their gorgeous pastries, we selected a few: a chocolate éclair (10LE), five colourful
macaroons for 7.80LE, and a petit-four called a carmelletto gâteau at 8LE a
piece.
No seating meant
we had to wait to sample. However, our anticipation was ultimately met with
disappointment; as each treat we tried failed miserably – primarily for lack of
freshness. It is as though they had been in the store for a few days.
The macaroons looked
lovely, but they crunched, cracked and crumbled under their staleness; all that
was left of their flavour was a drowning sweetness of what may have been
something delicious. The éclair wasn't
bad: the bland pastry left something to be desired but the filling was tasty,
light and surprisingly fresh enough, though we're sure there's a better Cairene
éclair out there.
The biggest
disappointment of all was the carmelletto gateau; mainly because it had been recommended
to us by the clerk over the mille feuille. The gateau was an overly syrupy and stale
sponge cake that had absorbed the flavour of probably everything else in the
pastry case, which was so unfortunate.
Thankfully, and
surprisingly, our little failed venture didn't cost much: 29LE for imported French sweets by one of the
most famed brands is quite impressive.

Considering the
quality and the end product, though, we're not sure a name is enough to carry such
an experience. We've heard good things about this label, so perhaps a visit to a different branch in Cairo will prove to be a more satisfying experience.