Fig: Satisfying Food & Quick Service in Heliopolis
Oasis Food Court, Sheraton Bldgs.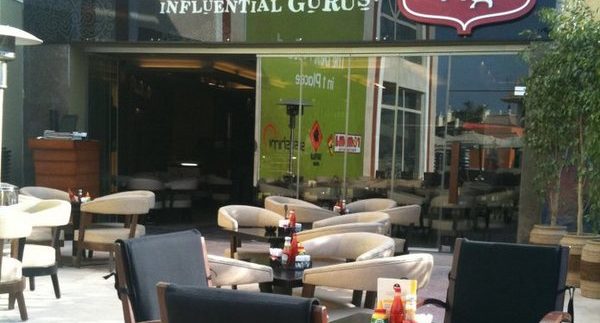 Every time we go to the Oasis food court in the Sheraton Buildings we're
surprised to find how much it's expanded; there are always new venues opening
up and we're never sure if they've always been there or happened to be overlooked
due to all the other options. The point is, every time we visit, the place
seems more enticing and filled with life. Entering the courtyard at the
man-made lake, we snagged a seat next to the water, belonging to Fig café.
The special thing about Fig is that you can order food from
Buffalo Burger and Roma Pizza 2 Go if you like, while also indulging in their many juices,
cocktails and desserts. More importantly, the outdoor seating area is
unbeatable, not to mention their shisha.
Their beverage menu includes cocktails such as kiwi and apple with cream, signature Fig yoghurt drinks,
smoothies, milkshakes and chocolate drinks – all ranging between 20LE and 30LE.
However, we were disappointed to find out that the blender at the time of our
visit wasn't working, so instead of a flamboyant cocktail we settled
on a fresh orange juice (19LE); seeing as it's not orange season, it wasn't very good.
Since the drink department didn't exactly work out we chose
to turn our focus to the food. Wanting to stick to the review at hand, we checked
out Fig's menu, which includes filets, Brazilian grills, pasta and salads, as
opposed to ordering from the other available options such as Buffalo Burger.
The chicken quesadillas (42LE) were cooked with red sauce
and came with tortilla chips on the side, along with barbeque sauce, guacamole and
salsa. This was meant to be an appetiser but it seemed more fit to be a main
course, seeing as we were unable to order more food after that. Wanting to try
the dessert though, we settled on the traditional Um Aly (22LE) which was tasty
with a generous amount of cashew and pistachio nuts; drenched in sweet milk.
The shisha at Fig is exceptional, increasingly enjoyable if
you choose to sit outdoors. The 'blue mist' shisha (26LE) with grape, mint and
berry flavour was wonderfully aromatic and is exclusive to this café. Shisha has different approaches,
depending where it comes from, so at Fig they offer all types of shisha whether
it be from Egypt, Morocco, UAE or even the US.
The service at Fig is very good, and while you can probably
head to Oasis and sit wherever you like by the lake, we especially enjoyed our
visit to this café. We just hope that
next time we pass by the blender will be working.