Fino Bakery: No-Frills Breakfasting at Maadi Bakery
32, Road 213, Next to Crave and Green Mill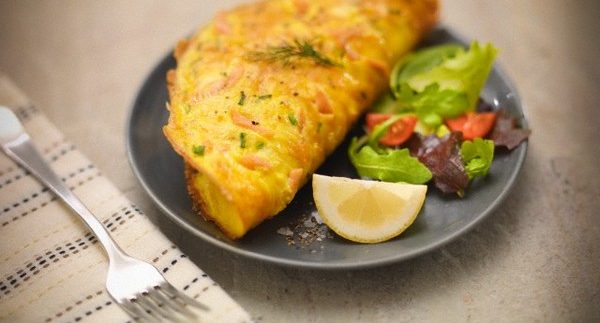 There's no shortage of breakfast and brunch spots in Maadi, but they too often serve as a sort of late morning lounge, where the food seems like an afterthought. Fino, the upstairs brother to Fino Bakery on Road 213 in Degla, seeks to attract clientele for whom food is the top priority. Just above the bakery and next to the newly-opened Cairo Kitchen, Fino offers a set of breakfast staples in a simple setting.
Fino's décor is minimal, with high-backed chairs and tables for four: no comfy couches, big-screen TVs or fancy architectural details here. The big windows look out on the leafy square on Road 213, and the diners skew towards expats and families.
As we sit down, grabbing the last available table, all attention turns towards the bread basket that is immediately set down in front of us, heaped with a wide variety of Fino Bakery's attractions.
Fino's selection is nothing out of the ordinary: breakfast options include the usual variety of eggs, pancakes and waffles, as well as their home-made pastries. One intrepid member of our party opted for both the Western omelette (cheese, peppers and beef bacon for 38LE) and a stack of pancakes (29LE), while other orders included fried eggs (29LE), a bagel (5LE) and a fruit salad combo (35LE with coffee and juice).
Drinks were delivered promptly by a smiley waiter, who later came back requesting to remove our spoons, which prompted a few bemused glances. The freshly-washed spoons were returned to the table shortly, alongside complimentary fruit salads for each of us and a larger one for the person who had ordered it.
The fruit was delicious; a mix of melon, plums, strawberries, apples and bananas, in a slightly-sweetened fruit juice. Not ten minutes later, the other dishes were served, along with Egyptian jams and butter. When the omelette was found to be too soggy for one diner's liking, the staff quickly took it away for another minute of heating. Although the omelette was not much improved by its stint in the microwave, it was generously filled with chunks of peppers and meat. The fried eggs were light and fluffy, and the accompanying hash browns were perfectly cooked; soft on the inside with a crispy exterior.

The only off-note came with the plain bagel which arrived well after the rest of the food had been served, and was deposited on the table without any fanfare – or butter. Seeing as the downstairs bakery is an integral part of Fino restaurant's appeal, we'd expect better communication between the two.
Breakfast ran between 35LE and 60LE per person for food and drinks, including tax and service. Fino offers breakfast on weekends from 7AM to noon, in addition to their regular daily fare.
Our party arrived mid-morning, and the tables began to clear out well before noon. It's true that other Maadi bakery/cafés offer more inviting seating areas, but when compared to better-known breakfast spots' long waiting times and harried servers, Fino's concise menu, prompt service and classic fare make it a solid choice for breakfast lovers.