Garden Promenade Cafe: Great Outdoors, Poor Food
Cairo Marriott Hotel & Omar Khayyam Casino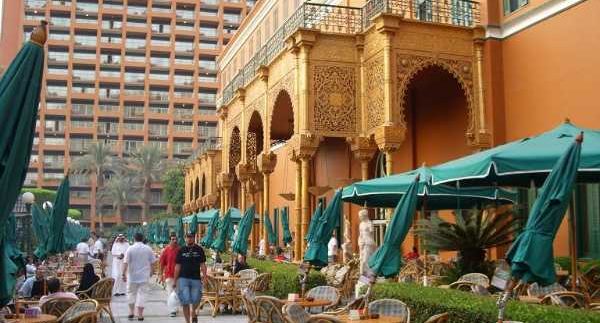 Like taking a
Felucca or dining on Andrea's chicken, the Zamalek Marriott's garden café is
just one of the Cairene staples that everyone must experience at some point in
their lives. The garden café is also an excellent place to take your
out-of-towner friends to if you want to impress them while basking in the
glorious June sun.
Open all week
long from 7AM till 1AM, the Marriott garden (or Promenade Café as the hotel
calls it) becomes a bustling hotspot on Fridays and Saturdays around brunch
time. Considering it's just one of three venues in Zamalek that provide
open-air seating (other than Coffee Bean& Tea Leaf and Sequoia) and the only one in a green and breezy garden, the café is pretty
much the undisputed king of outdoor, lazy weekend brunches in Zamalek. It's a
lot of fun to sit and people-watch; and you're sure to spot a few celebrities
and public figures on a good day.
That's the good
news. The bad news is that the food is mediocre and far too expensive for its
quality. The spinach omelette (a whopping 59LE) was so bad; we barely finished
our second bite. If you're feeling fabulously generous, the continental
gentlemen's breakfast (95LE) includes fresh juice, eggs, muffins and toast. If
you're minding your waistline, the low-calorie breakfast (also 95LE) offers a
rather bland selection of cereal, skimmed milk, fruit and whole-wheat toast.

Sandwiches are just as expensive as their selection of pastas, all ranging
between 65LE and 80LE. The grilled tuna salad (105LE) is the sole bright
spot on their menu: the tuna is actually tuna steak and grilled well, a rare
feat in Cairo.
The cheapest
items on the menu are the pizzas (around 55LE), which are quite poor. The fact
that the verde pizza needed massive amounts of ketchup to be eaten is a strong
indication of how terrible it is.
Service can be quite
slow on busy days, and waiters may stroll past you while avoiding eye contact
or hearing your calls for help. A pizza and a juice will easily cost just under 90LE,
while a cup of juice and a small water bottle will set you back 40LE.
Nonetheless, this
café is more about the atmosphere and the open air than the food or service.
With June weather in full swing; it's great to find a cool breeze in an
aesthetically pleasing location. If you're yearning for a full-blown
continental breakfast, we highly recommend the buffet breakfast at Omar's Café
inside the hotel.