Gelato Mio: Delicious Fresh Ice Cream in Zamalek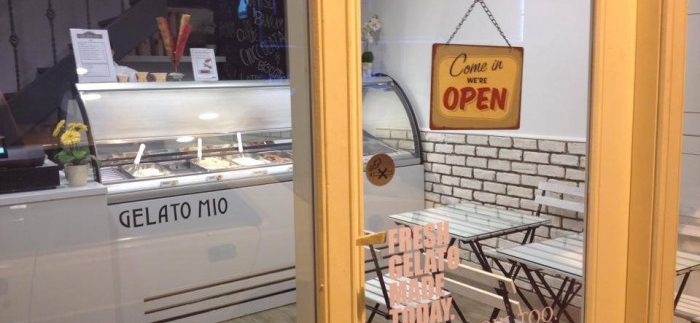 We love finding out about a new venue in the already densely packed Zamalek. We're even happier when we realise that we'll be coming back. Such is the case with the newest ice cream vendor in town, Gelato Mio.
There's no shortage of dairy products or ice cream in Egypt, but of those, so few are good, and of those, so few remain good for very long. We doubt this'll be the case here, as Gelato Mio is run by the good people over at Pizza Mia, whom we've seen consistent quality from since our first review.
The store is relatively small, with simple white decor and three small tables that carry two people each.
We opted for a small cup that carries two bowls of ice cream (12LE). For our flavours, we picked a classic chocolate, and something more experimental; fig and ricotta.
The small bits of fig in the ice cream were plentiful and you had some in every spoonful, which balanced nicely with the ricotta cheese. The Chocolate ice cream was some of the best we've tasted in Cairo; so rich you could forget you were eating ice cream.
We also tried the Caramel and Marron Glacé with Milk flavours, which tasted very strongly of milk, but in a good way. The one flavour we disliked, though, was the strawberry cheesecake. Something about it just tasted off, but we couldn't put our finger on it.
As for the sorbets and fruit flavours, they are all made from fresh fruit – no artificial flavours. Being fans of lemon sorbets ourselves, we had to try one, and they were refreshing, delicious and just the right amount of sour.
The last thing we tried was the Avocado (19LE) which is a bowl of ice cream of your choice – we recommend the fig and ricotta – topped with a shot of concentrated coffee. Who knew our two favourite things in the world could go into one cup.
The final verdict? An overall excellent experience and one we repeated the very next day.