Grand Kunafa: Classic Egyptian & Lebanese Desserts in Mohandiseen
25 Syria St., (In front of Bank Al Ahly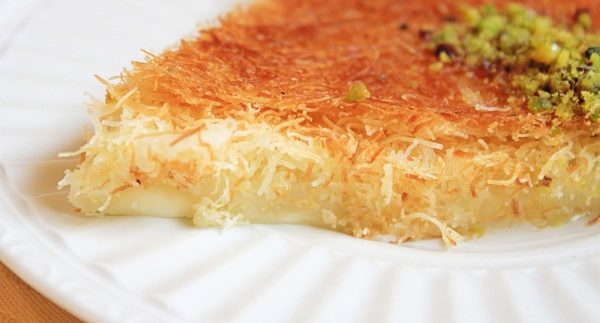 Discovering the true essence of life in Cairo involves dipping and diving into the most unlikely of places; looking beyond the garish and the gaudy; finding something completely unexpected. This is often the case with the city's dining scene, across the thousands upon thousands of restaurants, cafes and bakeries. The shops and restaurants change so often it's impossible to keep up and there's something around every corner and in every alleyway.
On our most recent tour to Mohandiseen, we came across a small store with a big sign that said 'Grand Kunafa' – almost as a proclamation of sorts. There are two small tables outside, but we recommend you take your food to go because Syria Street isn't the quietest place. Neither is it the most comfortable – in fact, it just isn't the most pedestrian friendly.
As the name suggests, the shop specialises in konafa and other classic Oriental sweets – even selling them by the portion. Our first experience was with the smallest size offered was the Konafa with Cheese (20LE). Readily put-together and kept on a metal plate in a fridge, the Konafa goes onto a coal grill for 20 minutes upon ordering. Although this sounds like a lot of time for a simple serving of konafa, our patience was rewarded. The konafa was hot, golden and crispy, covering a thick layer of ricotta cheese. The cheese melted and pulled like a pizza, and the best thing about it was that it wasn't overly greasy.
Afterwards, we ordered a small Nabulsiya Extra with Cream and Pistachio (15LE). Divided into four layers, two layers of finely ground konafa has a layer of cream and it's all topped with a pistachio paste. While the Nabulsiya wasn't as good as the coal grilled konafa, we can't deny we enjoyed the taste of the pistachio coupled with the syrup typically used on Oriental sweets.
Our last order was a Hareesa with Almonds and Cashews (10LE) which, unfortunately, lacked any flavour at all; flavour that was almost entirely dominated by the nuts.
Grand Kunafa isn't the most refined-looking place selling Oriental sweets and desserts. More than most, Cairenes are creatures of habit – especially when it comes to food. Will Grand Kunafa blow your mind? Probably not; but it's easily reachable location makes it a good back-up.