Groppi: A Once Cherished Downtown Relic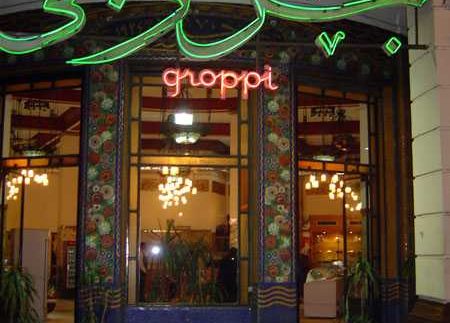 Located on the
corner of Talaat Harb and Qasr El Nil
Street in Downtown is the infamous café Groppi.
Open since 1892, Groppi was once the hottest spot in Cairo
to see and be seen, with a changing patronage along the way from British occupation army
officers to Cairo's
artists and writers.
Originally designed as a pastry and tea room, Giacomo Groppi opened the café, not knowing
that it would become a Cairo
monument of historical wealth and nostalgia.
From its art deco
design, delicate mosaic tiles in the entryway to its rotunda style, Groppi's
beautiful architecture has drawn in many patrons over the years. Although its
outside beauty catches the eye, once inside; it's clear that the years have
taken their toll.
The entryway is filled with pastry cases boasting chocolates, petit-fours,
cakes and more. Take a walk to the next level and you'll find simple tables and
chairs under high ceilings, seemingly ancient chandeliers, and a quiet, drab
atmosphere.
Waiters are formally
dressed, making up for their informal or rather missing service. At the time of
this reviewer's visit, ordering a bottle of water seemed like a feat of great
difficulty. Although Groppi boasts a
full-scale menu aside from the desserts, many of the options were actually not
available during our visit.
For a quick
snack, we opted for a toasted rumi cheese sandwich (6LE). While the price seemed
measly, the sandwich was unfortunately measly too and served on a semi-stale
toasted petit pain. The lemon juice
(approximately 10LE) came cold, though it lacked a bit in flavour.
While we weren't
impressed enough to try their sweets, we've been told that their tarts are
decent, ranging from 30LE to 240LE. Between 17LE to 170LE, oriental sweets are
also available, including platters of om ali as well as basbousa and konafa.
If you happen to
be in the Talaat Harb area, Groppi is a great place to check out for its
history and the striking architecture of the store front. Despite its flair for
nostalgia and its status as one of the most iconic landmarks of Downtown Cairo,
ultimately; its food just isn't as good as it used to be.