Harris Café: Fresh New Look for Popular Heliopolis Café
79 Abdel Hamid Badawy St. (El Shams Club)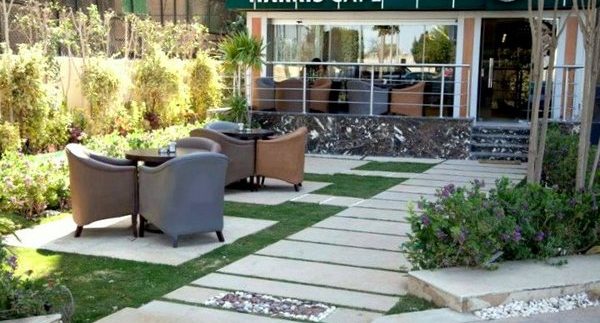 Harris Café used to be known for its classic dark interiors and it had its share of loyal, regular customers. Having stuck to the same image for a long time, the owners finally decided it was time to spice it up a bit. Still in the same location, in front of El Shams Sporting Club on Abdel Hamid Badawy Street, the place has been totally transformed, showing off its new modern look. Harris Café has literally become a brighter place, attracting younger costumers than before.
The doors have been changed from dark wood into glass and there are a couple of tables in the outdoor area after you go up a few steps. With a slight breeze, the outdoor area would be a fantastic choice with its relaxing ambiance and view of a garden.
The place is still unique and chic; its makeover continues to exude a feeling of opulence as you enter.
Inside, there are too many plasma screens for the size of the place. They have photographs hung on the walls of an eclectic range of personalities from around the world including Oprah Winfrey and Mahatma Gandhi. They also have quotes put all over the walls including funny and sarcastic quotes about men in the ladies' bathroom; we imagine there was one about women in the men's bathrooms too.
Harris Café is also known for its good quality coffee. Their breakfast menu is popular; the continental breakfast comes with coffee, juice or tea; a freshly baked croissant, a mini muffin, jam and fresh yoghurt with honey for only 29LE. You can also choose the 'wake up' omelette (26LE) or the banana pancakes (25LE).
Their burgers are delicious and range from 31LE to 35LE depending on the toppings. Appetisers include cheese garlic bread (17LE), crispy chicken (25LE), fried mozzarella (24LE), fried calamari (24LE) and cheesy fries (19LE) that come topped with sharp cheddar flavoured sour cream and herbs.
We had the Trois Beef (58.99LE) which came as three little pieces of filet with mustard, pepper and mushroom sauce. The plate was satisfying but the pepper sauce was spicier than we would have liked, the two other sauces were not bad and the beef itself was pleasingly cooked.
Harris Café's staff seem to be always in a hurry and seem to be running around all over the place. Since the place is not that big, whenever you need them they'll be there right away.