Hubbly Bubbly: Maadi's No-Frills Shisha Stop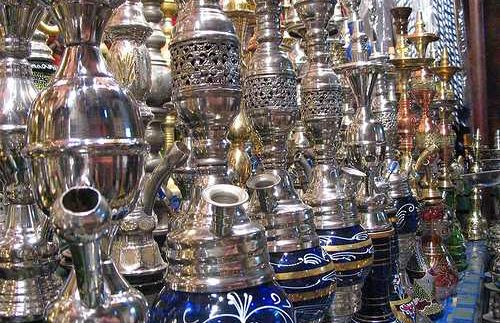 Hubbly Bubbly is kind to the pocket; it's one of the only shisha spots in Maadi with no minimum charge that could require one to endure a long, drawn-out meal. Located a few minutes' walk from the Cairo American College, afternoons can draw a young and foreign crowd but there is almost always a free table. Close to French deli La Fromagerie and La Bottega Italiana, a small Italian deli, Hubbly Bubbly is a convenient stopping place for a shisha on the go or a cup of their exotic, imported teas, be it a subtle Earl Grey or some Jakarta spice concoction.

While it's hard to decide if the name is amusing or a turn-off, Hubby Bubbly is a straightforward kind of place, ideal for getting a sandwich or an order of chicken strips and fries and good shisha with coal service that makes the experience all the better.

The décor tries to be modern but ends up looking a little awkward, but the interior is dark so you'll hardly notice. You won't get the most expansive of food menus here, but there is a vast selection of teas. While the tobacco flavours are not plentiful, you'll most likely find the good old favourites. Overall the food, shisha and service are worth the visit and not overpriced.

Hubbly Bubbly's selling point is its sheer, no-hassle convenience. Definitely not ideal for a long meal, the best option is to enjoy a cup of delicate tea or a cantaloupe shisha without having to order anything substantial. Unfortunately, there is no open-air option, so there's a chance of you suffocating from all the shisha smoke. While this kind of place may seem unremarkable outside of Maadi, most of the good shisha places in the area are fully-fledged restaurants, thereby making one feel forced to stay the duration of a full meal. Hubby Bubbly is by no means glamorous, but it is convenient and reliable for those looking for a no-frills stop.