Il Pennello Ceramic Café: Coffee Meets Creativity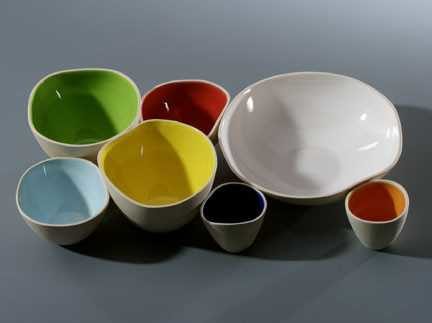 Located
across from Pasta Republic on Road 9 in Maadi , Il
Pennello Ceramic Café looks like a quaint European coffee house from the
outside, with fresh white walls and an airy interior. With its inviting
entrance, we expected it to be a lovely spot to get a snack and indulge in our artistic
sides.
However,
we soon discovered that the food is truly mediocre, a trait that is never all
that appealing. Following our afternoon of coffees and ceramics, we deduced
that while the ambiance is pleasant, we could not overlook the fact that the
menu is average in every way.
The
pasta with white sauce and grilled chicken is more coated in a layer of cheese
than sautéed in any kind of white sauce, while the afore-mentioned chicken is
almost nowhere to be found, besides the few pieces hiding at the very bottom of
the bowl. It proved to be a veritable scavenger hunt to find it.
The
caprice salad was decent; but the fresh mozzarella looked more like cheddar and
the portion was anything but ample, while the garlic bread was fine but really
not remarkable. At least the fresh juices were tasty and sweet: the strawberry
juice looked almost like a smoothie in its thick texture. Prices here are
moderate; expect to pay 25LE for a salad and around 50LE for a main course.
Be
sure to stop by the ice cream stand and sample the delightful and unique
kiwi ice cream concoction.
The
service at Il Pennello is quite fast, attentive and overall better than the
food they served, with waiters happy to oblige with any special requests.
The
walls are lined with ceramic objects of every shape and size. The selection includes
a large hand statue, presumably handy for arranging rings and jewellery on,
a soap dish, a duck and so on. Each piece has the price pencilled on, displaying
how much it costs to paint your very own pottery piece. Prices generally range
from about 30LE to 100LE.
This
is how Il Pennello works: you first pick your piece of pottery, and then you
get six basic colours of glaze. You can then render whatever master piece or
colour combo disaster that you please. A word of caution: you must leave your
newly painted piece to be properly dried and fired in a kiln, although the staff
promises it will be ready after five days.
The
establishment draws a very young crowd, many of which are celebrating their
5th, 6th or maybe 7th birthdays. So no, this is no cool new hotspot for
sophisticated conversation.
But
for those in search of a little nostalgia– or if you have the kids in tow– get ready
to roll up your sleeves, take out the paint brushes and enjoy a cup of coffee
while getting creative.