Jaz Restaurant & Café: Relaxed Shisha Hangout in Sheraton Heliopolis
1181 No.6 Square beside the Arab Academy for Maritime Science and Technology, Sheraton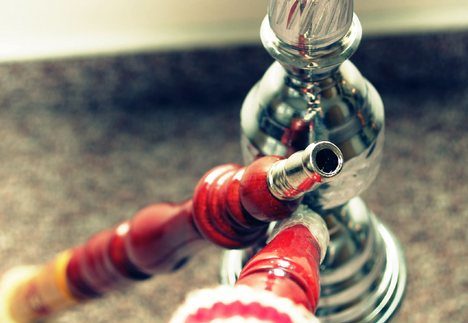 Across of
the Arab Academy for Maritime Science and Technology in the Sheraton Heliopolis
area, Jaz is found with an outdoor seating which adds to the beauty of the
place – many of the Academy students go there to blow off some steam during
their break, and since its run completely by youth, it appropriately caters to
just that.
It had been
a warm, sandy day so we decided to take a seat inside. A friendly waiter opened the
door for us and we chose our own seating. The interior design of the place is
fabulous; the choice of blue light makes it cheerful and relaxing, while at the
same time allowing the place to be well lit. The tables are well separated,
giving a sense of privacy.
We decided
to evaluate Jaz's shisha capabilities and went ahead and ordered an apple
shisha (20LE). Aside from a couple of spelling mistakes, the menu was
clear. It included a pizza section, with a regular margarita costing
32.99LE and a chicken barbecue one for 37.99LE. All burgers and club sandwiches
come with a side of fries so we went ahead and ordered a classic cheese burger
(27.99LE) along with a hot chocolate (12LE).
Our apple
shisha arrived soon after we were done ordering and it is possibly the best
apple shisha in the Heliopolis district; the apple tasted crisp and clear and
it remained as fresh for the remainder of our stay. Made with a hint of
caramel, the hot chocolate tasted delicious. The burger exceeded our
expectations where the meat was very juicy and cooked to perfection.
Of the few
complains we had, we couldn;t help but be irked by the poor air-conditioning,
which did little to ease what had been a hot and stuffy day. On top of that,
the sound of a loud blender was also present throughout, as the 80's music
playing on the loud speaker tried to drown it out.
Our
experience overall was an enjoyable one. With a laid back staff, Jaz calls out
to the youth looking for a new hang out spot to frequent. The prices are very
reasonable; the shisha and hot chocolate are beyond perfect. However, the
strange mix of sounds coming from the kitchen and the speakers, as well as the
indoor temperature, detracted from the overall comfort factor. Despite these
problems, seldom do we find a café that so easily fits fits into the mould
of a regular hangout for friends- a place where one would not have
to worry about what to wear, or who you'd hang out with. Jaz is one such place.