Kahve: Cozy Cafe in Sheikh Zayed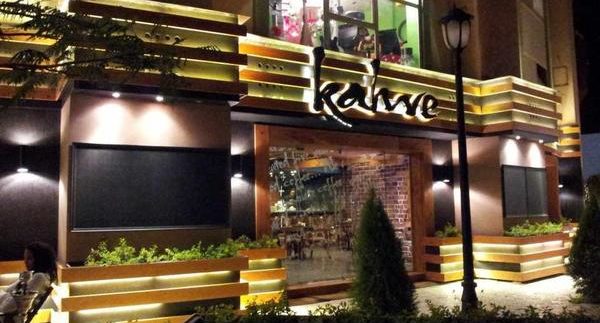 At first glance, some Cairo cafes seem to have it all; good atmosphere, design, location and overall outlook. Then, when you actually decide to give them a go, you end up with unprecedented disappointment.
Located in a quiet street in the Sheikh Zayed, Kahve grabs attention with its Turkish name and seemingly chilled atmosphere. The place is adequately-sized, with both outdoor and indoor seating available, and despite being full at the time of our visit, it still retained a relaxing ambiance; perfect for reading a book by yourself, or going on a casual date.
We asked a waiter if there were any tables available and he, right away, began arranging one for us. Our menus were laid in front of us and we began our search for something to order. The menu's not huge in terms of variety, but it'll do in a pinch.
Kahve offers hot beverages (15.50LE-21LE), mostly coffee-based, of which the Nutella Turkish Coffee (16.50LE) was the most striking. Some cold shakes, cocktails and smoothies were also offered (19LE-29.75LE). As for food, we spotted some savoury items including basic sandwiches, croissants with fillings (11.50LE), pizza and crepes (25.75LE). Some desserts are also offered, including chocolate fondant (29.75LE), waffles (15.75 LE), tarts, muffins, cookies and donuts. The final item on the menu was the shisha, of course, which comes in all sorts of flavours and varieties (20LE-30LE).
The true beginning of the end came with us placing our order. Our waiter, quite surprisingly, did not recognise several items on the menu. He then proceeded to deny our request for Salami pizza claiming that the only pizza toppings available were Hotdog, mushrooms and cheese. Quite baffled, and slightly annoyed, we opted for a Hotdog Pizza and a Cheese Lover's Pizza (27.75LE each), green tea, water and the Chocolate Lover's dessert (30LE).
A whopping forty-five minutes later, our table was just as empty as it had been when we first arrived. Our pizzas and Chocolate Lovers dessert only arrived after we had asked for them three times, and our green tea and water came after we had to remind the waiter that we had, in fact, asked for them two times. The pizzas were quite small in size, thin, crisp and laden with cheese; totally delicious, but not particularly filling. The same, however, cannot be said for the dessert, as it lacked an adequate amount of ice cream and chocolate sauce, had none of the nuts it claimed to have on the menu, and the brownie itself tasted quite stale.
All in all, it's a shame Kahve, with its lovely setting, fell so badly in the service department. Sure the pizzas were scrumptious, but they sure weren't worth the wait. The Chocolate Lovers dessert was a total disaster and our waiter completely forgetting our order was quite a nuisance.