La Gourmandise: Now Open in Maadi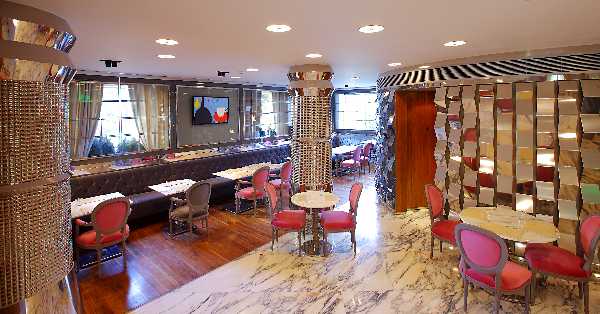 For years, La Gourmandise café in the Four Seasons Giza's First Mall has
enjoyed a monopoly on French tea time served with a flourish. The café's
recently opened branch in Maadi brings beautifully displayed macaroons and
petit-fours to the neighbourhood, discarding completely the vacuous mall
atmosphere, and maybe even outdoing its sister branch in terms of flare and
ambiance.
Saying that the Road Nine café has bloomed may sound overly poetic; but we
can't ignore that the floral and butterfly decorations adorning the
restaurant's large windows evoke the image of a delicate flower blooming
between the cracks of a pavement.
Inside La Gourmandise, grey marble floor contrast deep fuchsia walls. The
café has a surprising amount of floor space, with tables and booths occupying
three levels. The upper level features space-age-type silver pillars, with
matching metallic wall decorations, making the café an intriguing blend of a
French patisserie and a modern art showroom.
Pale pink leather menus belie La Gourmandise's tendency towards tea parties
and ruffles, with blossoms and flower emblems stencilled excessively onto
dining surfaces and placemats.
The extensive menu features its fair share of salads, appetisers, sandwiches
and pizzas, as well as three full pages of dessert selections.
Our terrine volaille (36LE) arrived in a single, substantial slice with a
side of dressed greens and toasted almonds. The chicken liver was slightly on
the heavy side, but tasty when combined with a slice of fresh bread from the
basket. The salad La Gourmandise (48LE) was an overzealous combination of
rolled smoked salmon, sliced mushrooms, avocado and almonds. While the
ingredients were delicious when tried separately, the salad was a bit
imbalanced; as the vegetables drowned out the meagre lettuce.
The quiche salmon-shrimps (24LE) was more manageable, with thin, flaky crust
served in a baked square rather than the usual wedge slice. The croque monsieur
(38LE) substituted the traditional ham with turkey, and arrived coated with
toasted cheese and accompanied by a porcelain tureen of French fries for an
indulgent main dish.
Despite the friendly service and French pleasantries throughout the meal,
the true rewards quite literally arrived with dessert in the form of two golden
brown macaroons perched beside the perfectly prepared, rich chocolate soufflé
and its accompanying dollop of vanilla ice cream. The outer shell cracked with
just the right amount of crunch, and mocha crème centres melted on the tongue.
Our work here was done.
We'll have to see how business improves over the next few months; but we
maintain suspicions that La Gourmandise won't be quiet for long.