La Gourmandise:High Tea at the First Mall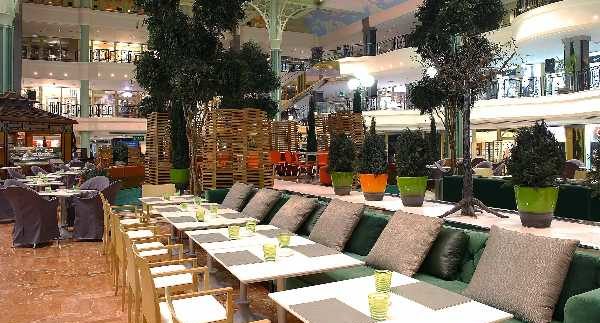 For a spot of high tea and a gourmet snack after some swanky shopping, take your worn-out soles to La Gourmandise.
Located under a vast skylight at
the First Mall, adjacent to the First Residence, Giza, this classy café/restaurant sits in the shadow of various upscale retail labels (Ferragamo! Bally! Tiffany's!); a far
cry from your average mall dining experience.
No hectic
bustle or crowded corridors will disturb your meal La Gourmandise; making you feel
as if you're at a picturesque high tea in a country garden. It's no surprise
that the greatest appeal of La Gourmandise is that it captures the art of delicate
and subtle dishes like no other.
While the food lives up to its gourmet name, the bread
is truly La Gourmandise's selling point. The Parisian salad (58LE) is a flavourful
blend of gouda cheese, cherry tomatoes and grilled chicken. Although the excess
of mushrooms was a bit off-putting, the dressing and greens were pristine.
The breadbasket compensated for any vegetable ratio
issues in the salad: the bread is crisp with a rustic crust and soft chewy
insides accompanied by lightly softened butter that melts in your mouth. The baguettes
and whole grain rolls tasted fresh out of the oven on a Paris morning.
Try la gourmet sandwich, made of smoked salmon, avocado
and optional egg– you can either have it cold for 72LE or toasted for 78LE– while
you also have a host of pasta, fish, meat and poultry entrées to choose from.
For a hearty lunch, sample the US-imported steak for 155LE.
The deserts make up an array of aesthetically pleasing
tartlets and chocolate concoctions. The marron ice cream (14LE) was unbelievably dense and
rich with a chestnut taste; making it a challenge to get through the two generous
scoops served in a frosted glass– clearly not for the faint-hearted. The cocoa enthusiasts at our table were delighted with a chocolate
mousse with hazelnuts (24LE), an assortment of rich brownies (22LE) rich and
an oozing chocolate torte (22LE). Over-the-top as the dessert tray is, it
had us over-the-moon.
La Gourmandise is a great place to stop for a light
meal under the gentle glow of the skylight. The restaurant might require a
sense of humour– throw in a few 'ta-ta's' and high tea puns if you feel the
ambiance is a bit too stuffy, or the mall murals of blue skies and clouds a bit
too contrived. We can't ignore the fact that we're in a shopping mall; yet
there's something charming about the indoor scenery.