La Poire: Egyptian-Style Party Nibbles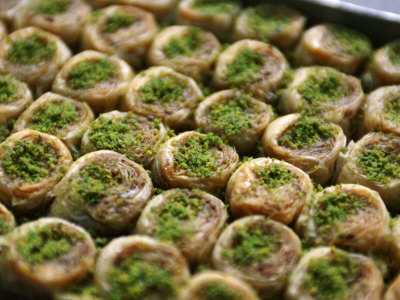 The go-to place
for picking up cakes and tarts– or so we're told– La Poire has several
locations all across Cairo ,
although none in Zamalek are accessible to the public: the two Zamalek
locations are safely guarded behind the Ahly Club and Gezira Club walls. So we ventured out to Garden City to sample
their wares.
Only being able
to order a 1/4 kilo each of sweet (17.50LE) or savoury (18.75LE) bite-sized
treats, we were forced to sample more than we bargained for– tough job, we know. Of the savoury bites, we chose mini-pizzas, anchovy
rolls, cheese and mint pouches, and buttery bread twists. The petit fours
include goodies like mini-orange gingerbread cupcakes, chocolaty sandwich
cookies, biscuits with jelly centres, layered chocolate bars, and mini-iced
white tarts with creamy nutty filling. We also threw in a slice of raspberry cheesecake (14LE) and a vanilla
mousse layer cake (7LE) just for kicks.
Not everything
tasted fresh or particularly special, but it does depend on your taste. Some of us rather enjoyed the pizza bites with
bits of olives, peppers and tomatoes, and especially the anchovies, while
others found the anchovies too salty and the sweets generally too sweet. We gave the gingery cupcakes marks for
creative flavouring, but ultimately they got a pass as they were rather
dry. Highlights were the creamy nutty
(but super sweet) mini-tart and the well-made layered chocolate bar; both
really good sweets to impress at a party.
The beautiful looking
cheesecake was sadly not up to par, containing more cream than cheese with a
gelatinous consistency. We ordered the
caramel mousse, but were served the vanilla mousse instead. It ended up also being
very creamy and quite heavy, though some of us did like it.
La Poire also
carries a selection of tea sandwiches and finger foods, chocolates and baklava,
which are very popular during Ramadan and the feasts. The Garden City branch's Alice
in Wonderland-like door leads to a small café with about three tables off to
the side, where you can enjoy your purchase with hot drinks (a latté costs 17LE),
or full-sized sandwiches (about 20LE) and sodas.