Le Marche: Heliopolis Coffee On-the-Go
Inside Fairmont Heliopolis & Towers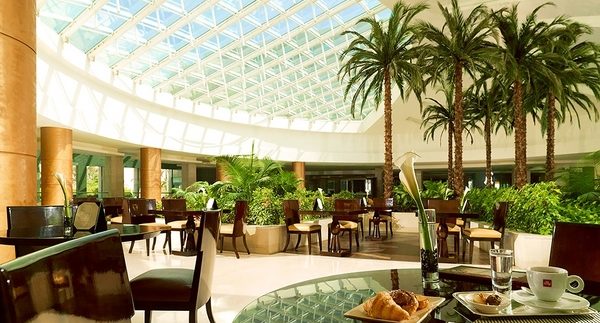 Top-tier hotels in Cairo rarely have casual cafés or on-the-go
coffee places, often forcing us to leave our hotel and roam about when we crave
a to-go cup. Luckily for Heliopolis residents, the Fairmont Heliopolis and
Towers has le Marche, a café right inside the hotel's grand and modern lobby. The
café is appealing to hotel guests as well as passers-by in search of a quiet
cup of coffee.
Hotel coffee is often served either buffet-style without any kick,
or so formally that you feel pressured to sit properly with your china mug and
sip it ever so daintily. Le Marche is refreshing in comparison: although its
atmosphere is a little stiff with its hotel lobby style; its cafe seating,
glass cases and friendly service at the counter give it a more laid-back feel.
From frothy cappuccinos and flavoured lattés to potent espressos
meant to give you a little kick for your morning meetings; Le Marche makes good
coffee, plain and simple. Whether you want to add flavour or drink it plain; Le
Marche is there to give you the kind of coffee that you can sip or grab as you
rush off to your next appointment. The staff are used to serving customers of
the important and hurried variety, and are quick to tailor your drink to whatever
you want. As we are coffee purists at heart; we were grateful that they did not
hand us a sweet frappé blend when we ordered a plain iced latté.
Prices are a bit higher than usual and range from around 15LE for
an espresso to 25LE or 30LE for a large cappuccino. While it is no cheap drink;
Le Marche really does deliver the goods.
If you don't want to
take your coffee on an empty stomach; try their fresh morning pastries,
including flaky croissants, sweet Danishes and donuts, which are generally
priced in the 15LE to 25LE-range. No matter how busy your day is; Le Marche will most likely
convince you that it's time for a fifteen-minute break– enough time to enjoy
your morning or afternoon caffeine boost.