Lipstick: Chilled Out Shisha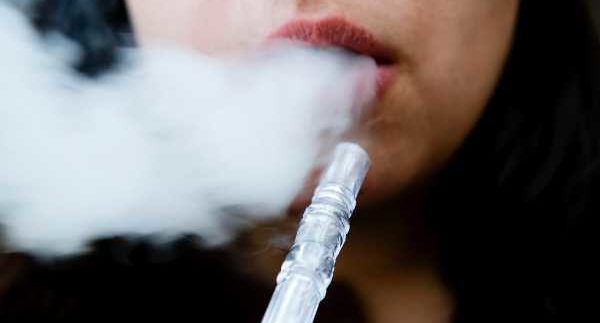 Passing by Mohandiseen café Lipstick one evening early in Ramadan, the
place seemed much livelier than usual. Drawn by the lights and streamers decorating the café terrace and a
large banner advertising sohour, we decided to see what all the excitement was
about.
Lipstick is fully dressed to the nines for Ramadan with lamps, window
decals and kheyameya fabric throughout the space. On the terrace, a DJ blasts Arabic pop hits; so
sit inside if you don't want to compete with the music.
Lipstick's year-round menu is an ambitious collection of salads,
sandwiches, pizza and desserts in addition to coffee and juice. During Ramadan, a sohour menu consists of
several fixed price options as well as à-la-carte items. You can choose a fiteer sohour menu for 30LE,
which includes savoury fiteer, molasses, white cheese and tomato, yogurt and
juice, or you can try a mixed grill sohour menu for 65LE with chicken, meat,
kofta and liver, in addition to om ali for dessert. À-la-carte items include
several variations of foul and a few side items.
The food at Lipstick is definitely not their strong point. Both the regular and sohour menus fail to
impress. An order of kobeba and
sambousak (16.99LE) missed the mark. The
kobeba was split open, making it difficult to eat and revealing a wholly unappetising
centre, while the cheese sambousak was lacking in fresh herb flavour. The meat sambousak tasted fine and was juicy
on the inside, but the large bowl of mayonnaise sweating in the heat was a
definite turn off. The fried mozzarella sticks
(18.99LE) were a bit of an improvement, although the cheese wasn't gooey and
the plate was served with a watery, white mystery sauce that didn't tempt us in
the slightest.
From the sohour menu, we sampled the foul (5.99LE) and white cheese with
tomatoes (6.99LE), and were quite disappointed with both. The foul not only tasted off; but it had also
been puréed beyond recognition, while the cheese and tomato dish suffered from
a heavy garnish of sliced cucumbers that only served to flood the dish with
liquid.
While we recommend holding off on sohour here, the drinks and service at
Lipstick are worth the visit. We have no complaints about the tall, creamy café
latté
(11.99LE), and the cold karkadeh (4.99LE) was strong, sweet and
satisfying. Our cherry shisha (7.99LE) came with a welcome surprise: Lipstick
adds a large dish of ice to each shisha, surrounding the pipe and chilling the
smoke, for a lovely, smooth experience.