Maasa: New Oriental Sweets Bakery in Zamalek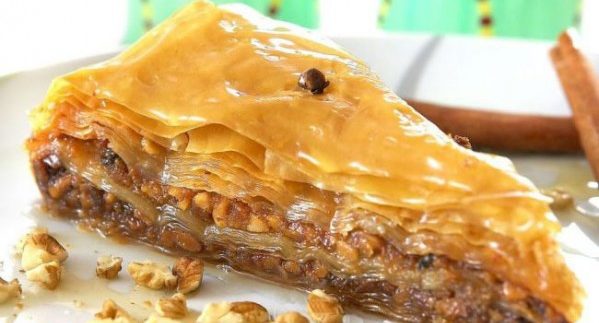 Around Cairo's cafes, restaurants and bakeries, Lebanese and Syrian influence remains strong, with the subtle Levantine touches transform Egypt-familiar foods into something a little exotic.
When it comes to Oriental sweets, Mandarine Koueidar has dominated the the market in Zamalek for years, even despite new competition such as Al Samadi.
New in Zamalek, Maasa has arrived during Ramadan as a challenger to the throne. The venue is quite small and the glass façade only shows refrigerator which has six different kinds of ice cream, although that sight alone is enough to draw you in. We were greeted pleasantly at the door by a man whose accent gave away his Syrian nationality.
Oriental sweets vendors usually have strange restrictions on minimum amounts, as a means of forcing you to buy as much as possible of their product – but there's no such obligations here.
A kilo of Pistachio Baklava cost 110LE; crunchy, golden and drenched in honey, we expected it to be much sweeter – which was a pleasant surprise. The pistachio is used generously and tasted freshly roasted. We also tried the Pistachio Hareesa, (55LE per kilo), which was tasty, had good form and a good ratio between the pistachio and the coconut flavoured mash.
We tried the Basbousa with Almonds which was a little strange. Surprisingly void of sugar, and with a strong crust versus the grainy semolina we're all accustomed to, it didn't quite hit the mark. The Esh El Bolbol (110LE per kilo) on the other hand was roasted perfectly and with plenty of pistachio.
Maasa also sell Malban and Nouga. Pistachio Turkish delight will set you back 120LE per kilo, and has a positively distinct taste without overdoing it with the sweetness.
Of the previously mentioned ice cream (60LE-90LE per kilo), because it looked very different to what you'd find locally. We opted for the Damascus Mesteka – as mix of pistachio and cream – and it was divine. Levantine ice cream, or Bouza, differs from regular ice cream in that it pulls from the mesteka and has a slightly different texture, which along with the pistachio made it some of the best we've tried.
While Maasa is a safe option in a pinch, its offerings are largely conventional – except for the ice cream, of course.