Matigoo's Hookah Lounge: New Maadi Hangout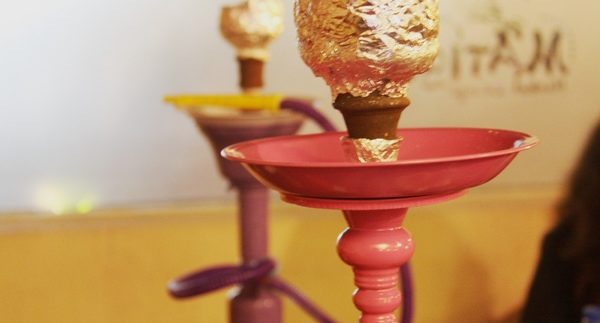 Matigoo's Hookah Lounge in Maadi
has us hooked on its delicious blends of shisha and an extensive menu of
reliable grub like its pizza and barbecued chicken. But there's something off
about the latest addition to Road 9's patio lounges that we can't quite put a
finger on.
Perhaps, it's the unnecessarily
cramped outdoor seating that screams quantity over quality? Or the wait and service that are just short of hospitable? Or the imposition of herding parties of
two away from the comfy couches to the less exciting side tables, even if the
restaurant were empty?
Nothing like the sound of a 'hookah
lounge' could conjure, Matigoo's is streamline modern set along two outdoor corridors
with wicker seating and coffee tables, chiffon awnings, pointed archways and
back-lit wall treatments with Arab proverbs doodled in fulvous tones.
Hookahs dipped in pink and purple
paints look like modular toys, adding a psychedelic accent to the rather brown
setting. Regular hookah flavours run for 17LE and mixes are doubled. We sampled
two mixed flavours, which we recommend: mint and watermelon, and Chiclets and banana.
You can opt for more mint over watermelon, or more bubble gum over banana,
depending on your preference. The flavours hold through the evening and if you
get the server's attention, you'll coal up until you're buzzed.
Matigoo's menu offers a wide
selection of regular nosh like pizzas, pastas, some breakfast items and
barbecue. We tried the Deluxe Matigoo Pizza (31LE) topped with smoked meet,
beef pepperoni, sausage, onions, peppers, mushrooms and black olives. The
thin-crust pizza was textured to a tee and tasty but was sparing in marinara.
But what knocked our knickers was
the Messahab Chicken (49LE), a barbecued spatchcocked breast served with choice
of two: rice, mash or chips. Skin-on and grilled to a crispy, dark hue, the
chicken was succulent and well-seasoned.
Tomy and Tunka sound more like a
pair of his and her Japanese designer toys than milkshakes. The Tomy (20LE) whips
up vanilla ice cream with banana and peanut butter that sound and taste like
the ultimate milkshake combination; while the Tunka (20LE) reminds us of an
Indian lassi with its mango juice, honey and yoghurt blend. Both are tall and
toothsome.
Since its pre-Ramadan opening,
Matigoo's has fast become a popular hangout for Maadi's young and restless
types – twitter-keen and up-to-date on the latest, hottest trends. But once the
honeymoon phase is over, Matigoo's may need to spice up its setting and improve
its policies to stand out from the rest.
Directly opposite the Sakanat al-
Maadi Metro Station, Matigoo's is convenient, but nothing stops us from hitting
up a neighbouring joint that offers a similar fare.