Munch & Bagel: Good Bagels Are Finally Here!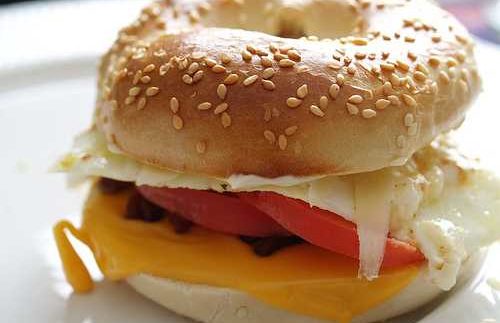 You've
probably driven past this tiny store once or twice in the past month without
even noticing it's there. The brown and white striped storefront awning hides
the sign reading 'Munch & Bagel', thus preventing you from discovering the
fresh and delightful bagels this store has to offer.
Despite its
inconspicuous appearance and uninspired interior (colours of beige and brown, a
few plastic high chairs under a bar table), the store offers
freshly baked and (hurrah!) boiled bagels, tasting exactly the way they should.
Too many cafés and pastry shops in Cairo have attempted to sell bagels that are
just baked pieces of bread with holes in the centre– this shop actually boils and
bakes the bagels, giving them that perfect taste and texture.
Munch &
Bagel makes three types of bagels: plain, sesame or black seed, in addition to
ciabatta and baguette bread, pancakes, muffins and waffles. The bagel menu
includes the standard options of cream cheese, Lox (smoked salmon with cream
cheese), scrambled eggs, cream cheese and jam.
A plain bagel will cost you 5LE,
while the Lox bagel costs 18LE. We found the lox bagel to be fresh and chewy,
while the smoked salmon was good though rather bland and the cream cheese
portion was very generous. What it lacked was a zesty twist; maybe some capers
or a slice of tomato would have helped.

The smoked salmon ciabatta sandwich
(24LE) was a definite step up: filled with generous portions of smoked
salmon, tomatoes, onions and green pepper, the sandwich was very satisfying
though a tad bit heavy on the mayonnaise. The mozzarella, green pepper and
basil bagel is a healthy (though somewhat flavourless) vegetarian option at 19LE,
while the bagel with Philadelphia cream cheese and jam (15LE) is an ideal
morning snack.
If none of
this tickles your fancy, try their homemade Belgian waffles: they're thick,
golden and cooked to perfection. The Nutella waffle (16LE) may send you into a
sugar stupor, and is best eaten fresh as soon as they hand it to you.
Sugarholics should try the waffle with whipped cream and syrup or nutella (17LE
to 19LE); though maybe it's best to avoid driving immediately afterwards.
Munch&
Bagel is owned by a friendly Egyptian-American couple; you can usually find the
wife behind the counter in the mornings and the husband at night. While the
shop's tiny interior doesn't really encourage you to sit and eat there, it's a
great location to stop by and pick up some bagels before work or school; as the
crowds of school kids usually found in the store will testify.