Ney Lounge: Comfy Cafe & Restaurant in the Heart of Zamalek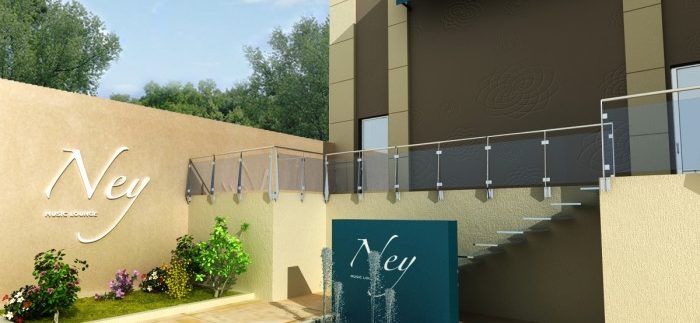 With a huge amount of new restaurants and cafes in Cairo opening in Zamalek, we've often referred to the island as a giant food-court. But the increasing number of food venues across the city has jolted the scene, somewhat; the essence of a successful food venue isn't just a quirky and crazy new idea, but rather retaining your customers with good quality and excellent service.
Ney Lounge, an old school renovated into a lounge, enjoys a great location and remarkable spaciousness. Dim lighting and a small staircase usher you into a simple, elegant and comfortable space. The interior includes cosy couches facing a large LCD screen and a VIP area that looks like a living room, separated by a glass door. The outside area includes different seating arrangements separated from each other by greenery for some privacy.
Ney's menu is rather extensive, offering sandwiches, meat and chicken dishes, seafood, breakfast options and even pastries, desserts and cakes which are sold per slice or whole (140LE). They also serve shisha (10.30LE) and kids' meals.
As soon as we were seated, we were served a bread basket with a selection of freshly baked bread with discs of butter mixed with rosemary and garlic. It was so delicious we had to ask the waiters to take them away, lest we ruin our appetites.
From the selection of appetisers, we opted for fried mushrooms (25LE); perfectly crispy on the outside and soft and flavourful on the inside, it was a simple but delicious start to the meal. For the main course we chose a Ney Steak with Mushroom Sauce (110LE). How the basics fair is a good sign of a kitchen's abilities and though seemingly simple in preparation, it's not often that steak is done right in Cairo – here it was.
We also opted for the Chicken Flute (60LE) which contains grilled chicken breasts served with cheesy mashed potatoes. The chicken, unfortunately, was too dry on the outside while the mashed potatoes were simply too dense.
For dessert, we ordered a portion of Gianduja (13LE) – normally a chocolate spread with hazelnuts; however, at Ney it was a chocolate mousse with orange peel. A must try for chocolate-lovers, the flavours explode in your mouth with the fresh zesty orange.
As a venue, Ney Lounge is spectacular and it's nice to see someone making use of abandoned spaces. While the food didn't live up to expectations, Ney Lounge looks like it could well become a go-to for Zamalek residents – even if just as hangout spot.