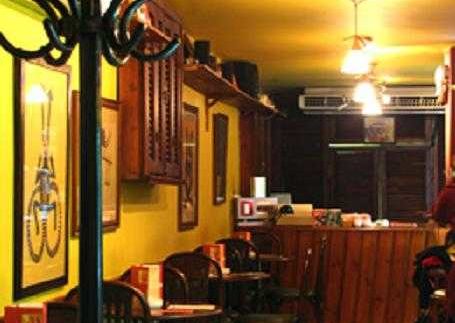 With Egypt 's
café-crazed culture, the act of going out for coffee is often a big
production. We love the coffee shop
options of Cairo,
but occasionally we crave a quiet cup without the trappings of the chain cafés
or the smoky haze of the typical ahwa. One such Zamalek café offers a no-frills, no-fuss caffeine fix in an
unapologetically ordinary fashion.
The aptly named No Big Deal Café beckons passersby with its large bay
window front and high-top tables. The
café extends shotgun-style from the front parlour to the back counter, with
tables lined against the walls, adorned with paintings of Nubian scenery.
After taking a seat near the drink cooler, we placed our order quickly
thanks to the prompt service, and within minutes we were presented with our
coffee. The American coffee (10LE),
espresso (9LE) and cappuccino (11LE) were all a bit on the weak side, but enjoyable
all the same and served in generous portions. While the cappuccino didn't quite
meet the standard 1/3 foam-to-coffee ratio, it fell closer to the mark than
many; so it was decidedly no big deal.
Moments later, our spicy chicken salad (12 LE) arrived with an
unexpected twist: it was not a salad, even in the most generous sense of the
word. In fairness, a large leaf of
iceberg lined the plate, and a bit of shredded carrot garnished one side of the
dish, but the 'salad' consisted of steaming strips of chicken, green bell
peppers, and onions sitting in a spicy tomato sauce. Aside from the slightly rubbery peppers, the
dish was surprisingly tasty. The chicken
was tender and the sauce was flavourful with the promised kick. The dish was well-portioned with a basket of
crispy pita alongside it. No Big Deal certainly offers good value.
In addition to salads, the menu also includes
several pasta options averaging 20LE a plate, sandwiches and thick burgers (20LE)
and a breakfast selection ranging from 10LE to 19LE.
The genius behind No Big Deal lies in its clever name. A play on the fact that it shares a kitchen–
but not a menu– with neighbouring Deals bar, the name also
appropriately sets you up for the experience. Your selections may not be the most incredible things that you've ever tasted, but will nonetheless be
satisfying. And should your order not
come out exactly as expected, the establishment's name reminds you that,
really, it's no big deal.