Nola Cupcakes: Ramadan-Themed Sweet Treats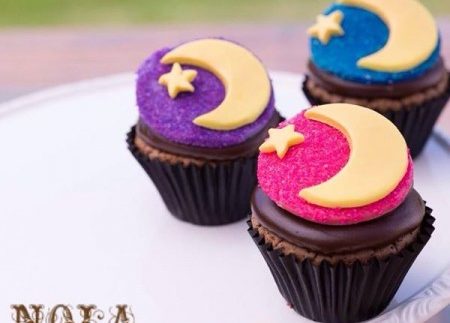 Once you reach the halfway point of Ramadan, you will very possibly become bored of traditional food and Eastern sweets. Following the trend that started with someone putting mangos into konafa, Nola Cupcakes has marked Ramadan 2014 with a series of specials.
Utilising traditional Ramadan ingredients like dates, konafa, basbousa and more, we opted for a Salted Caramel Date (12LE), Red Velvet Basbousa (13LE), Karkade (13LE), Konafa Nutella (13LE), Konafa Mango (13LE) and a Blueberry cupcake with Ramadan-themed frosting (14LE).
There's an immediate problem with Nola's; they are far too sweet and this is a recurring theme in almost all the cupcakes.
The Salted Caramel Dates cupcake was a relative success; the dates are mixed into the cake itself, which created a nice textural contrast, but the icing was just a little much. The Red Velvet Basbousa was even more intense, but the flavours just didn't add up leaving you with an excess amount of sugar. The Karkade was the least impressive and the taste of hibiscus was undetectable in both the icing and the cake.
The Konafa Nutella was the most surprising of all, because there wasn;t so much of a sugar onslaught. The konafa, however, lacked any crisp and tasted a little stale. The Konafa Mango suffered similar problems, in addition to tasting of burnt butter..
The last cupcake was a standard blueberry muffin, only with a mountain of icing in different Ramadan themed shapes – ours was a prayer mat and beads. Unless you're a serious fan of icing, you may find yourself sliding most of it off, only to reach an average cupcake with very few blueberry pieces.
Overall, this was probably not the best dessert we've had this year. It's probably not the best Nola have done either, but with the growing trend of westernising Oriental desserts, almost all confectionaries and bakeries are jumping on the bandwagon, and to that we say: stop. You can't even find a proper konafa with nuts or cream anymore!